Halloween presents an opportunity to go all out with your decorations, whether you prefer real cornstalks and scarecrows, happy goblins, or eerie undead. It's difficult to go overboard for Halloween; you might argue that the more decorations you have, the more protection you have on All Hallow's Eve from evil spirits or tricksters. Here are some ideas for decorating your house in Halloween.
How to Decorate Your House for Halloween
More than just a big 31 on the calendar, Halloween is a holiday. The scary season is a mental attitude that we embrace with our trembling bones and gushing minds. We're discussing sweets, costumes, get-togethers, films, characters, and fireworks. the entire nine yards. And it goes beyond merely acting and dressing up. It's only during Halloween that it's okay to spook the neighborhood and transform your home into a nightmare (insert your street name here).
You are free to set up a frightful Halloween party scene in your front lawn, home, or doorway. With some spooky handcrafted accents and indoor Halloween decorations, you may even add a little craftiness to your spooky. Hope those steps on how to decorate your house for Halloween.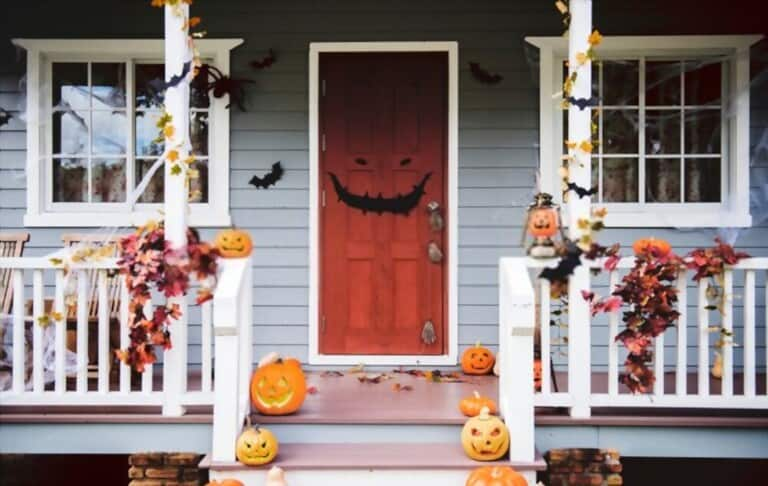 Focus on the front entrance and porch
Focusing the front entrance is the first step on the list of how to decorate your house for Halloween. Guests get their first impressions from your front entrance and porch, so it's essential to make these spaces seem spooky for Halloween. Installing some spooky Halloween decals on the entrance door is one of the easiest options. A pumpkin patch and dried corn stalks placed at your main entrance would also work wonders. On the front porch, you may display painted pumpkins or jack-o'-lanterns.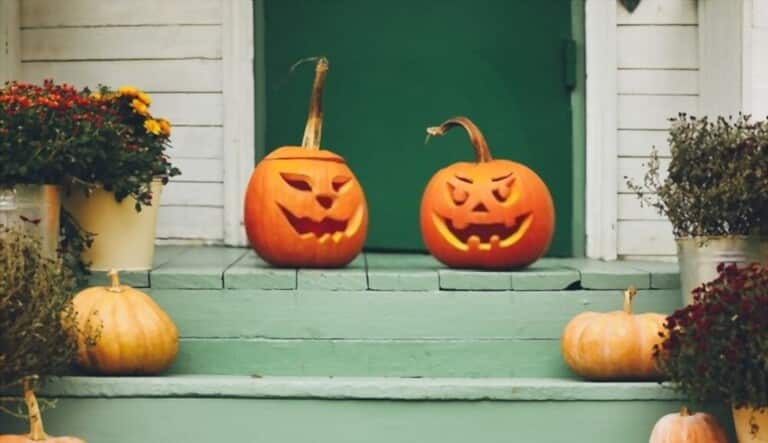 To save time and money, think about making your own Halloween wreath. If you don't have much time, we advise building a twig wreath or a frightening doll. Here are some extremely intriguing DIY Halloween wreaths that you may get ideas from.
You may decorate your porch with spooky cobwebs, spiders, ravens, bats, and other frightful creatures. Purchase some skeleton props, and use them to create a lighthearted display similar to the skeleton Halloween decorations.
Halloweenies your living room
Living room is also the important part you should focus on to list how to decorate your house for Halloween. The main room where visitors will spend the most of their time is the living room. With Halloween-themed cushion coverings, carpets, or by covering the furniture in white bed sheets, you can swiftly spook up the living room to make it appear deserted and haunted.
Decorating your living room with pumpkins gives it a seasonal feel because they are associated with Halloween. Depending on your preferences and theme, you can either carve the pumpkins or utilize jack-o-lanterns. Utilizing empty wine bottles is another approach that is becoming more popular. For decorating, a bottle can be transformed into a monster or mummy.
Halloween wreaths, cool dollar store accessories, terrifying picture frames, and frightening candles that drip blood may all heighten the eerie. For a finished effect, don't forget to add a "Happy Halloween" garland.
Prepare your kitchen for Halloween
It's time to get out your collection of eerie kitchenware and arrange it artfully on your kitchen's shelves and crevices. An enticing centerpiece for guests will be a dinner table decorated with themed tableware, candles, flowers, and eerie dishes.
Grim to the dreadful display will be a dish towel with a Halloween motif to wash dishes and horrifying cuisine to send chills down your guests' spines.
Give the bathroom a grotesque appearance
You can't afford to ignore your bathroom when you're Halloween-decorating your house. It is the setting where you may try new things and express your originality. You may quickly create a bathroom with a witch motif or put up a crime scene. Halloween-themed drapes, towels, and floor mats can be used by those with little time to create a spooky atmosphere.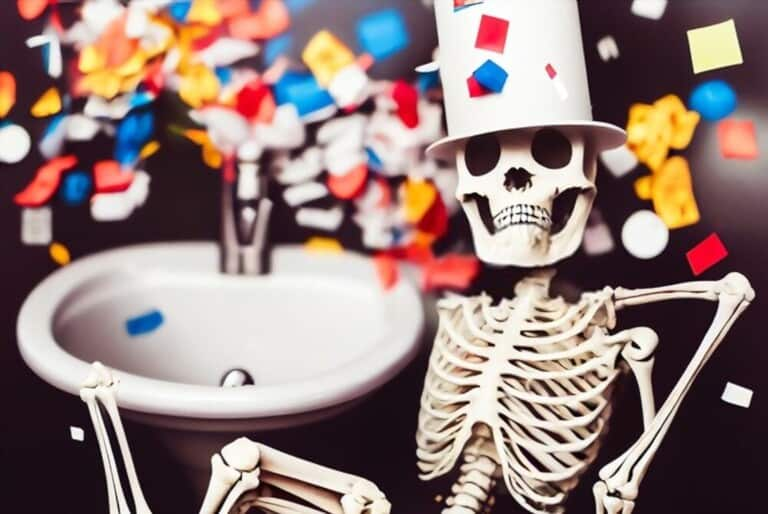 Bath bombs may provide a frothy bathtub with colorful water. Spiders, bugs, bats, and other Halloween decorations may be used in countless inventive ways in the restroom.
Don't be afraid to express your creativity outside
Making your house look creative is also an important part on the list of how to decorate your house for Halloween. If you have a patio or garden at your house, you may deceive your neighbors there. Online resources for outdoor Halloween decorations abound, but the easiest option we can recommend is to set up a graveyard or skeleton display. A skeleton prop needs just to be half buried in your lawn to be ready to frighten guests.
Another easy and low-cost method for creating a hostel for ghosts in the garden is to transform basic white sheets into hanging ghosts. Additionally, a scenario with a witch motif or a creative use of pallet wood might be a pleasing accent.
You may utilize the garden's trees and plants as ready-made props for Halloween decorating. A simple way to frighten the youngsters involves just placing big eyeballs next to a tree or plant. At the front gate or on the fence, a signboard with the words danger and fear is a given.
The swimming pool is one place that shouldn't be overlooked. To build a spooky-cool pool display, utilize Halloween decorations like props, lighting, and balloons. To create a bleeding pool to haunt the outdoors, add red dye to water.
Use your roof to great effect
The roof may be given spooky accents to make the entire home seem more frightful for Halloween. The greatest thing you might attempt is to frighten little children by hanging a huge spider with spooky legs from the drip edge. Stuffing a black plastic with used paper and cloth allows you to make a big spider quickly and simply.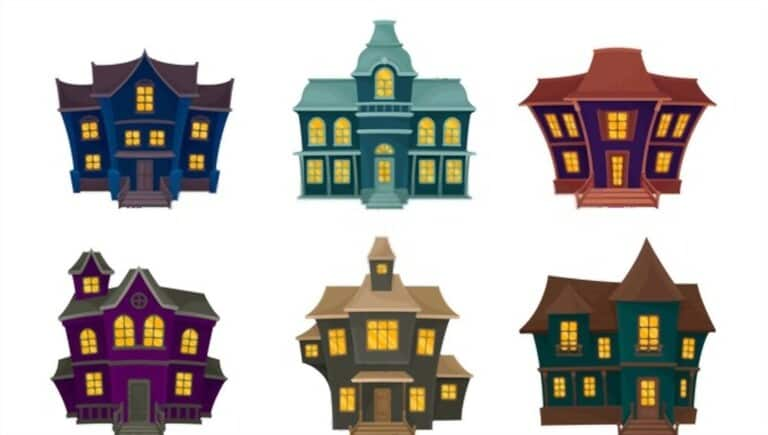 So, if you enjoy monsters, convert your home into one by attaching ominous, enormous monster eyes and jaws to the roof. The thought of showing skeletons attempting to enter your home through the roof and chimney may also appeal to you.
Halloween-themed cuisine
Halloween extends beyond simply adorning your house with eerie decorations and splashing it with bright colors; it also includes giving your visitors foods that will wow them. While it should taste well, your meal should also seem less appealing than what your guests would expect.
If you're good at baking, you could make Halloween cake, delightfully spooky cookies, or cupcakes with zombie mouths depending on the occasion. Keep some delectable treats on hand for trick-or-treaters.
Conclusion
Use Halloween ideas on how to decorate your house for halloween as décor for your home to give it a spooky feel. These lanterns have lights inside, and you can hang them wherever you choose. These lanterns are available in many different designs, such as pumpkins, ghosts, witch hats, and other figures. They are essential for Halloween decorations since they will illuminate the area brightly. Additionally, they will offer enough light so that you can keep the lights on in your home on low to increase the frightening effect! Additionally, you don't have to put in a lot of effort because they are easy to install and utilize.