Home office desks are one of the furniture that many people choose to use for working, studying, or entertaining. You can put them in places in your home space such as the office, bedroom, kitchen, living room .. Investing in a home office desk will make your home space more accents.
In general, often the office desks are mainly located in the center of the office space, where many people spend time not only for work but also for each person's free time. If you want to combine a desk with a stand between computer work and paperwork, set up an L-shaped desk to allow both to be used.
The U-shaped model will provide more space and often go hand in hand with a high price. But actually, if you want to share space for many other tasks, the L-shaped desk is very suitable for you. Below, we've broken down some of the styles, functions, and looks that can help you find the home office desk.
1. Writing home office desk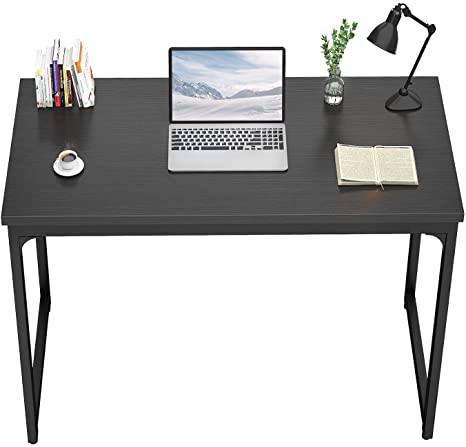 They are known as open desks, with a minimalist style to provide a minimal amount of space and if you want, a large desktop can also be added. This type of desk is suitable for placing along a wall or between the floor of a home office. For this design, only suitable for laptops, suitable for a direct, elegant style in any space.
2. Computer home office desk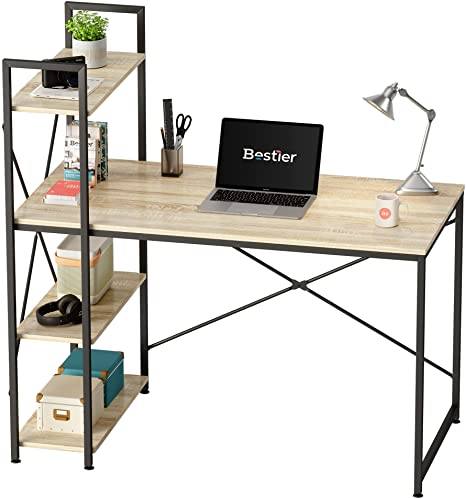 In the space of the home office, the computer desk is the most convenient of all the home office desks. This type of board will provide plenty of space for your entire computer tower and monitor, or any computer accessories, cables and peripherals that you need to store. They are designed for purposes that users find efficient and simple. Besides that, there is still some space for the hardware component. Mainly includes the keyboard tray and large storage area for the CPU.
Currently, desktop computers are limited in use because they are difficult to move, so they choose laptops or tablets because they also have the computing power to manage everything digitally. However, each device will have important characteristics to help you keep and get the job done to a minimum. Choosing and investing in the computer home office desk is up to the individual, but you can find this type of desk at some of the major libraries.
3. Executive home office desk
This is a rather luxurious and sophisticated type for high-end levels and they are also called director desks. With a wide variety of drawer designs and surface areas, along with the often huge area, the construction of fine wood materials and the combination of carvings gives a timeless, attractive table model. Different from many other styles on the market. We offer several models of executive desks that can include a variety of styles and shapes:
Rectangular table
L shaped table
U-shaped desk
Large desk system
4. Credenza home office desk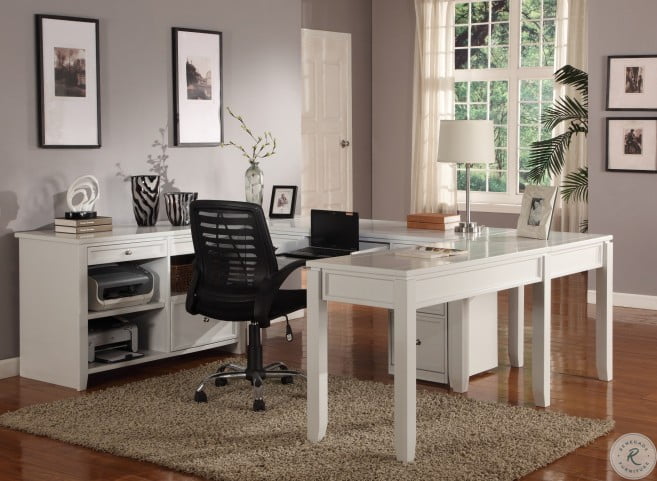 Similar to the name and function of this type of desk, Credenza desks often tend to combine desks with dressers with cabinets. They are considered quite popular furniture for the dining room or living room, appreciated for their aesthetics and utility. Once the two ideas are combined, they are more beneficial than expected. A necessity is to have space to accommodate one.
5. Corner home office desk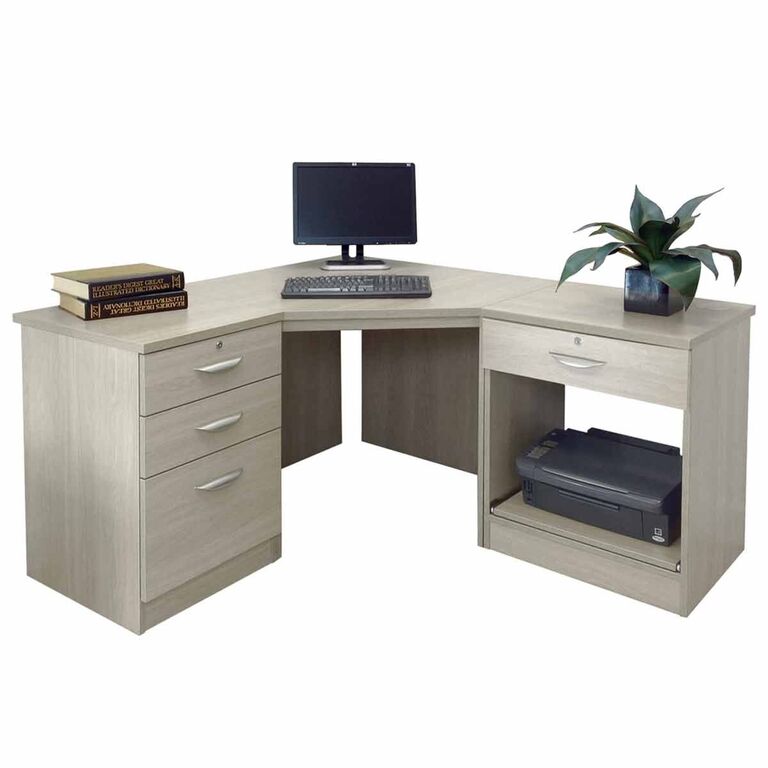 They are known for an economical and convenient solution to any space problem in terms of compact repeatability, or a generous set of surface areas with the complex configuration of this type of table. In general, desktop spaces are often in a smaller area or spread out in an L-shape. As for the design, L-shaped desks are great for small and narrow rooms because they provide a lot of space to work without everything on the table top being clutter-free.
They are often the focal point of the office, also bringing a lot of functionality to offices with difficult shapes. The L shaped home office desk comes in a variety of styles, woods, and finishes and styles for users to choose from, as well as styles to match the style and decor of the office. Besides, they also have the ability to move freely between two connected desk surfaces for better work efficiency, especially depending on the size you choose to place them in. The point to pay attention to is the ability to provide additional leg room.
6. Secretary home office desk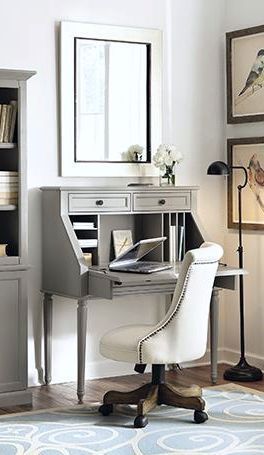 This is a type of desk with a hinged top, the table top design is placed on top by a bookcase, they are usually closed by doors or drawers. In general, the whole is seen as ornate, tall and heavy furniture. Quite suitable for those who are looking for a luxurious desk but lack the room for the formal role model.
7. Wall mounted home office desk
This type of desk is mainly mounted directly on the wall, which saves almost all available floor space. They are usually mounted with racks and workbenches together. Moreover, they can take advantage of vertical frames, which is very useful for desks with limited space. You can order them in the bedroom or dormitory.
8. Roll top home office desk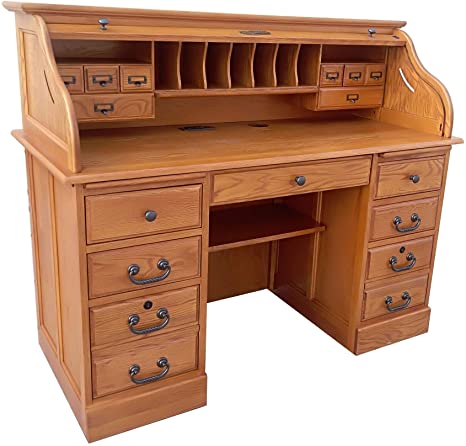 Desks with roll covers have a roll-down design to fix all the items inside. Although they are not practical desks, mainly for computers, but for those who love to decorate the space of the room and have a high aesthetic, this can be a great choice for any office. , living room or bedroom. Currently, these tables have 3 configurations including:
Drawers on both sides
Drawer on the left side
Drawer on the right side.
9. Standing home office desk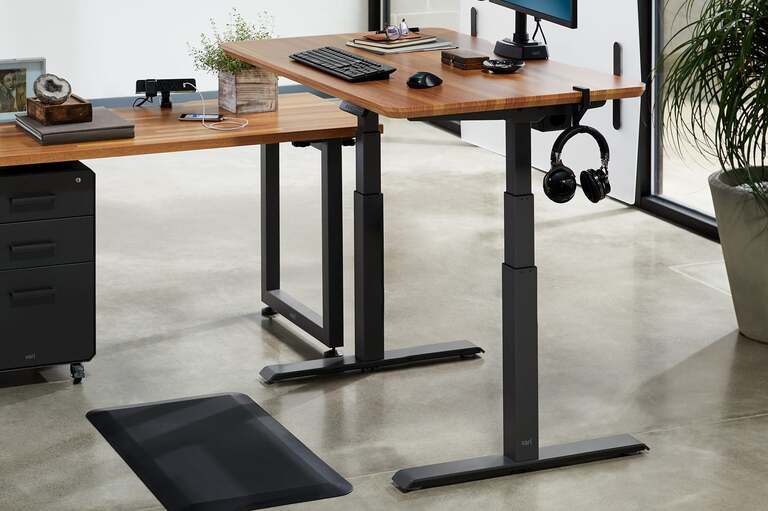 For those who often sit at the office or spend a lot of time looking, playing, studying, working full-time, sitting for a long time will affect your health more or less. Several studies have increased the popularity of standing desks because of the many health benefits they offer to users. There are three types of standing desks on the market:
Tables with accessories provide users with an easy choice to work on a standing desk
The whole table system can be raised and lowered
Standing desks always stay in an elevated position.
10. Dual sided home office desk
If you have a separate workspace and only for important meetings or conferences at home, that requires a large desk. A double-sided desk is a useful option that offers plenty of space and room for dual chairs. Please consider if you do not have a large space, limit the use of this type of table because they will make your room space narrow if there is not enough capacity for them.
11. Other home office desk
Leaning home office desk: As slanted desks, or like ladder desks, they work vertically providing multiple levels of storage.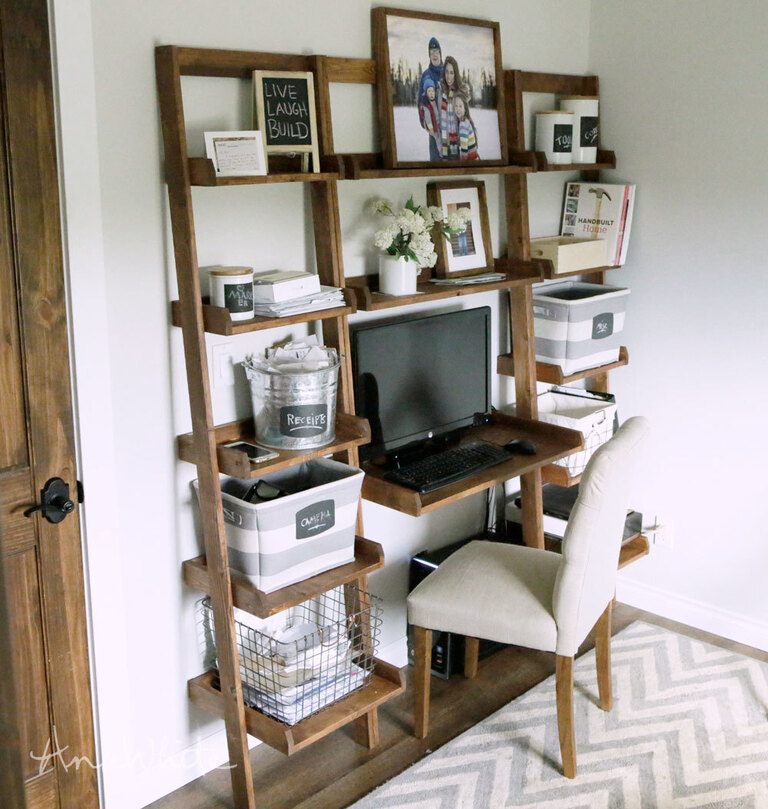 Foldable home office desk: As a collapsible desk style, it is very suitable for those who want to work temporarily and often on the go. The foldable workbench has a surface that can be easily folded into a thin piece and is easy to store inside a closet.
Combined desktop of home office desk
12. Wood home office desk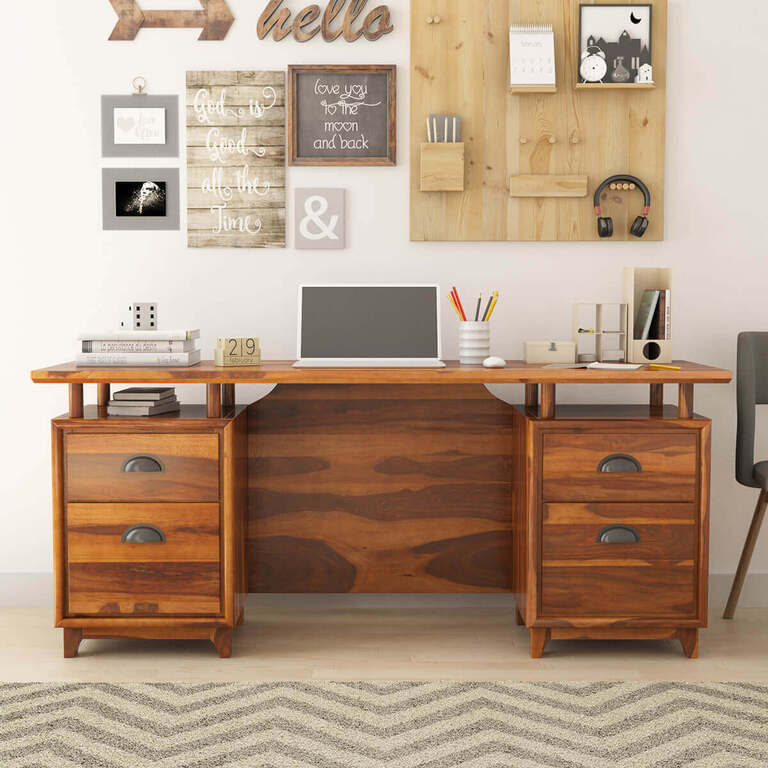 You can see now that there are a number of products that are fake wood or laminated or solid wood with many special designs. Knowing that, wooden surfaces are one of the traditional forms of desktop. In addition to the construction of the table top made entirely of wood, but can be mounted on top metal frames.
13. Glass home office desk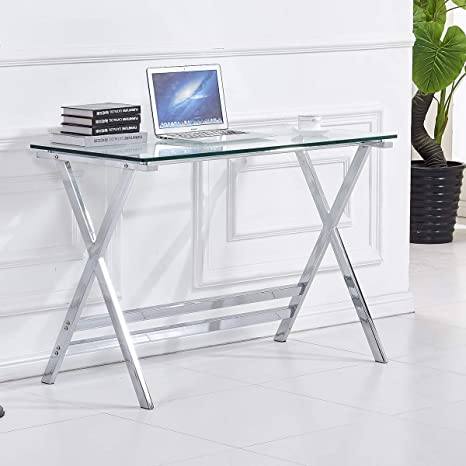 Glass surfaces are favored by many people because of their modernity when used on the desk. What's more, they can be combined with wooden or metal textures, glass visually expands the space and this will brighten the whole furniture. They are very easy to clean and disassemble, maintain or move. Besides, glass tables can be found in a variety of shapes and configurations.
14. Metal home office desk
Investing in a metal desk is very useful in terms of design optimization. They can prevent stains and scratches, and feel cool to the touch. They are often combined with modern design desks such as glass. In general, metal worktops can be paired with traditional wooden desks.
15. Laminate home office desk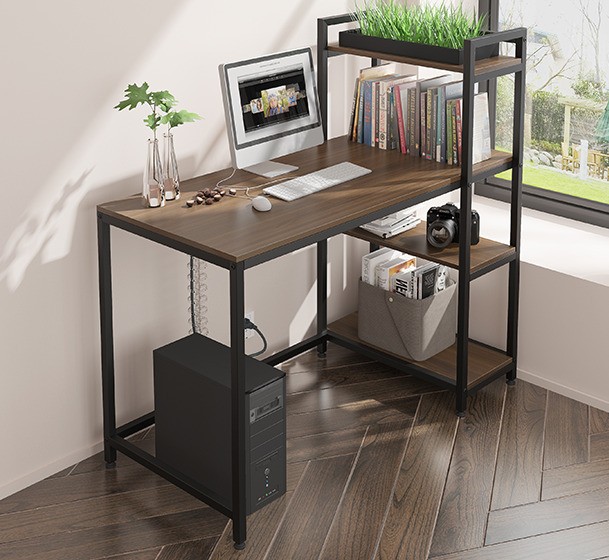 It is known that most laminate surfaces cover a protective layer of material on top of the wood structure. Since this layer is mostly plastic, this helps keep the table stain-free and resistant to warping. Although they do not have many luxurious and modern features like the above types, they have good practicality and flexibility.
16. Wood materials home office desk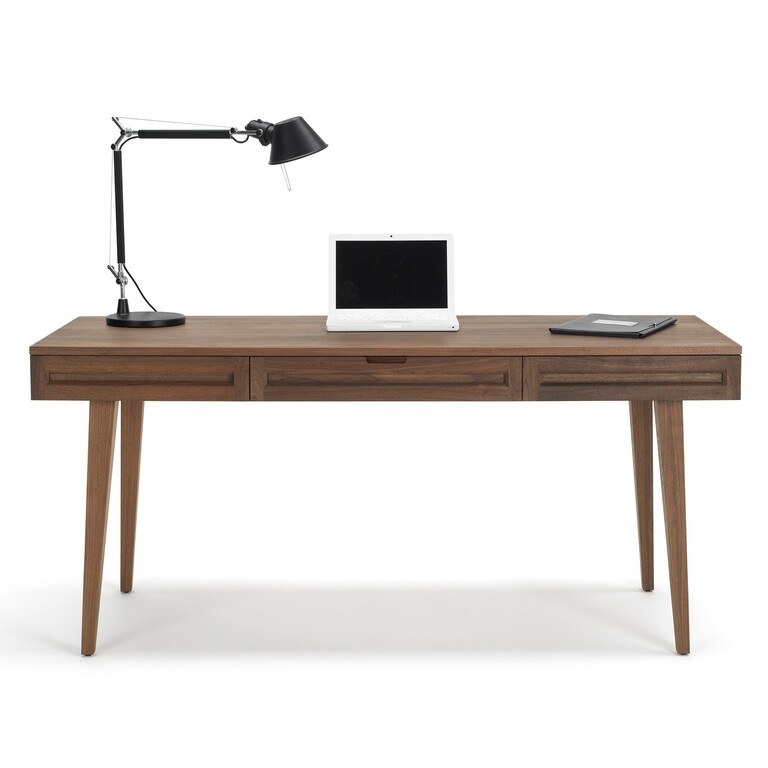 Natural: Natural wood tones, whether lighter or darker, are by far the finishing touch for desks, with a classic exterior that shows through years of use.
White: White tones are very popular for light-toned decorations. Placing a white wooden table will brighten the space you need to decorate and expand the space you need.
Black: For the black desk, it has a modern tone compared to the traditional natural wood styles, besides it still retains the dignified and delicate features. Currently, some metal frame desks are also available in black.
Grey: The grey wood tones on the furniture will be in a gentle neutral color, with a bit of a modern edge somewhere. Overall they are less warm and traditional than solid wood, and the wood color will be lighter and less rigid than the all-black model, which strikes a good balance.
Conclusion
Above behomemate have mentioned and selected some types of the home office desk that you can refer to basic information and their usage. Therefore, you should invest in an office desk right away, which not only helps your room to reduce space but also enhances the decoration style of the room to be more modern and classic. However, the selection still has many factors for you to consider carefully such as: material, room space, table top size, .... The information that we list above, will help you. There are a few things to keep in mind when choosing a table.