The items for gamers or even youtuber reviews for brands will never lack a gaming chair. So how important and necessary is it for them? Let's continue reading the analysis below!
Knowing that gaming chairs come in a variety of designs, styles, and features, you may feel uncomfortable sitting on a chair that doesn't have many features as it will reduce your productivity.
Today we will answer your questions to know how to choose a gaming chair. However, no one can find a comfortable chair for themselves because there are so many alternatives, so how to choose the best gaming chair?
This article will serve the purpose of making your buying decision simpler.
[su_related_article heading="" links='
']
1. Types of gaming chairs
1.1 Console gaming chair
While they're not as comfortable as PC gaming chairs and aren't designed to be used on a desk, they are comfortable to sit on and are suitable for comfortable positions for gamers using consoles. control.
Besides, they also tend to come in more forms and sizes. The traditional Rocker is known to be the most popular console gaming chair.
Most Rocker gaming chairs do not have a pedestal or wheels attached, unlike PC gaming chairs. But the L-shaped chairs can be placed directly on the floor. Rocker is a term that describes the backrest of a chair that can swing back and forth when moving.
Plus, this chair can also rock and the structure has pockets for you to store the controls. Especially with this type of chair is additional technology such as surround sound speakers and USB connection for charging, allowing it all to work better with the console.
1.2 PC gaming chair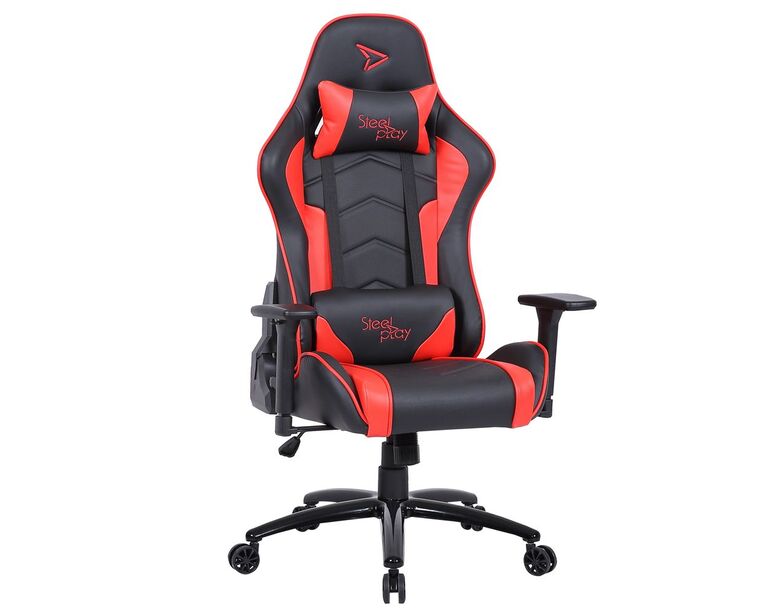 Currently, the PC gaming chair is a very popular form of gaming chair. They are mainly used in the back of the desk. In terms of use and construction, they are quite similar to office chairs.
At the same time, this chair is designed with double comfort in mind, incorporating additional layers of cushioning.
In general, early PC gaming chairs were configured in an upright position, although many can still tilt backwards and be locked in different recline configurations.
What's more, they're rotatable, with raised armrests for wrist support. This support will partly ensure that you can use the mouse and keyboard without wrist pain. Along with the high back of the chair, your neck will be less tired and not strained when looking at the screen.
On the other hand, they are also available with a transportable 5 wheel base with the seat mounted on top. Plus, they come with built-in features like built-in speakers.
1.3 Bean bag gaming chair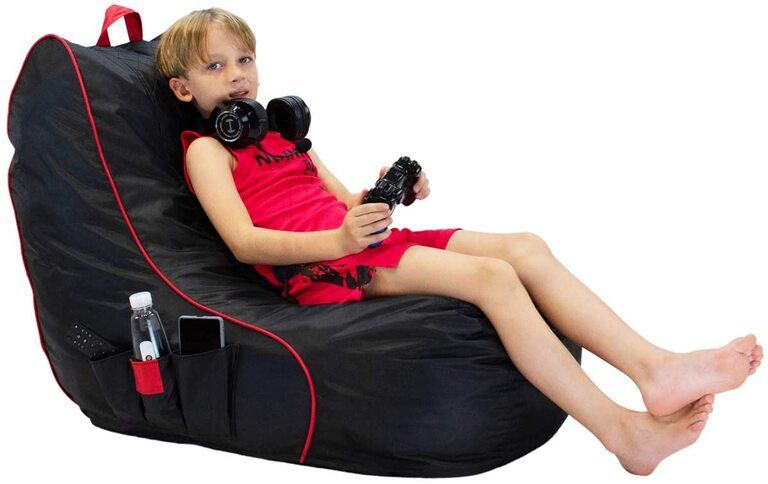 Although they are not specifically for gaming, there are still many gamers who always choose them due to their softness and comfort, adaptability to your body, and low cost.
This type of chair is described as a giant bag with a suede or microfiber cover and filled with foam or bed linen.
But if you are concerned about sitting position then this chair is not suitable for some positions but large bean bag chairs still allow lying flat with plenty of space.
1.4 Racing simulator seat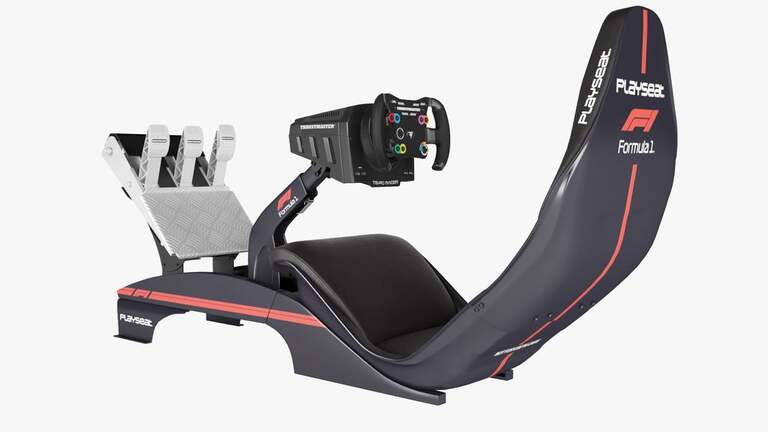 If you are passionate about car racing games and want a real life experience then racing simulator seats are for you.
Known for being a premium seat made exclusively for racing games. They will be linked to a frame or cockpit, which can mount racing peripherals like wheels, gear levers, pedals.
Driver simulator seats are very suitable for recreational gamers, but other types of seats are for professional racing driver training. However, these types of chairs are very expensive.
2. Materials for gaming chair
2.1 Fabric
It is the most common material used in office chairs and many gaming chairs. For breathable fabric seats, reduce perspiration and retain heat.
On the other hand, it is less resistant to water and other liquids than leather and synthetic materials.
2.2 PU Leather
You should use PU leather because it suits most people's needs and offers high quality.
Although PU leather is not as durable and breathable as real leather, it is still more breathable than PVC.
However, the disadvantage of PU leather is its poor breathability and long-term durability. Anyway, PU is cheap, so it's easy to replace.
2.3 Genuine leather
Unlike PU leather, this is considered the most expensive material that can be used. Leather is very durable and can last a long time, while other leathers like PU and PVC are more prone to cracking and peeling over time. It is a more breathable material, wicks away moisture well, reduces perspiration and keeps the seat cooler.
2.4 PVC
As for PVC, it is resistant to dirt and water, so you need to clean it minimally. PVC leather is usually cheaper than leather and PU leather, so you can save quite a bit of money.
2.5 Mesh
The material is similar to fabric, but will be more breathable. In addition, it is harder to clean than leather, so you need to use a specialized cleaner to remove stains, still not harming the delicate mesh. At the same time, it is also less durable, but still has its own advantages such as making the chair cool and comfortable.
3. Ergonomics of gaming chair
Comfort is the keyword that anyone considers before choosing a gaming chair.
If you don't want your back and neck to cramp in the middle of a game, you also want features to protect against chronic discomfort.
Ergonomics is a design philosophy based on human physiology and psychology while evolving about goods. The seats are designed according to ergonomics often to improve productivity and efficiency for players.
What's more, the gaming chairs are also engineered with supportive ergonomics to maintain proper posture, support movement, reduce back discomfort, and increase reaction time while gaming.
All in all, gaming chairs come with ergonomic features like adjustable armrests, lumbar support cushions and headrests, etc. Thanks to these elements help you maintain perfect posture and comfort. Optimal. You can also adjust the seat height, back angle, and armrests to better fit your body's proportions.
On the other hand, it is also scientifically designed with a high, curved backrest with many back and neck supports, such as a locking mechanism or tilting lock to keep the tilting backrest in place and even suitable for many positions. different. Adding the 4D adjustable armrest makes sense since it can be adjusted to a wide range.
Invest in a good gaming chair that will have lumbar support that adjusts to the curvature of your spine. On the other hand, the headrest and head cushions help support the head and neck, reducing strain on the occupants.
4. Dimensions of the gaming chair
Gaming chairs come in many varieties and you have to base them on different weights and heights, as this ensures you can choose a chair that is right for your size and weight.
However, there are still some chairs with thin seats, so they are also not suitable for people with large thighs or butts. There are styles of gaming chairs for you to choose from, including:
Large and tall gaming chairs: usually these are heavy and large. Heavy duty seats can withstand up to and including 500 pounds, depending on the model.
Small gaming chairs: in addition to large gaming chairs, there are also full-size fit-out chairs for smaller body shapes or suitable for children.
5. Armrest of gaming chair