Cable management is undoubtedly crucial for every living space. Firstly, it enhances the whole look. Additionally, cable management also helps house owners who have pets to avoid their pets chewing on the cable cords, triggering them into danger.
There are plenty of more reasons why we should have our TV cable managed. In the section below, we are going to show you 10 ideas on cable management, which we hope would become useful to our beloved readers
Must We Hide Our Cord? What Are The Issues?
Must we hide our cable cords? In our perspective, the answer would be 100 percent yes for their safety assistance. On the first hand, unmanaged cable cords trigger the appearance of the room with the mess they create. Apart from this, if we do not manage our cables, tripping over the cords and falling is not something out of the question.
This is more dangerous for households with young-aged children. Falling is a thing, but the kids can be in an unwanted situation, resulting from the unmanaged cable cords would be an entirely different story, and these unwanted cases will get more complex to handle.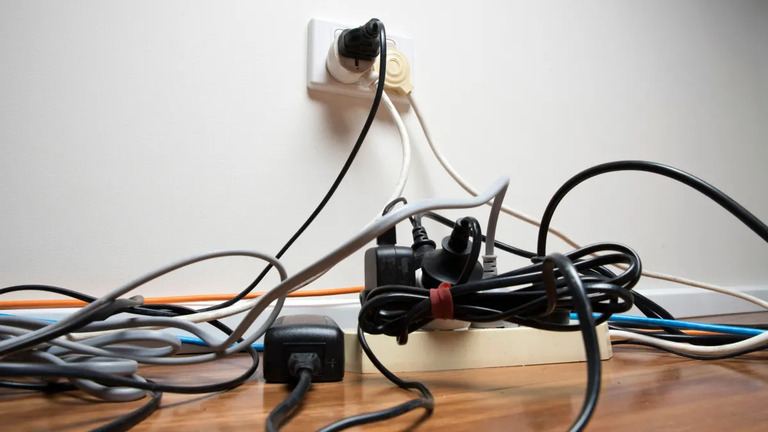 Moreover, with house owners having pets, managing your cable cords become more urgent. The reason behind this is that pets such as dogs and cats can easily get around the area and chew the cords. This problem leads to two major concerns.
First of all, the cords would be heavily damaged, and there is a huge chance of you replacing the current cords with the new ones. The other dilemma is that your pet would confront a massive risk of getting an electric shock or even a fatal possibility. That's why managing TV cables is getting more imperative for households with kids and pets. After all, safety comes first. The appearance concern is just the tip of the iceberg.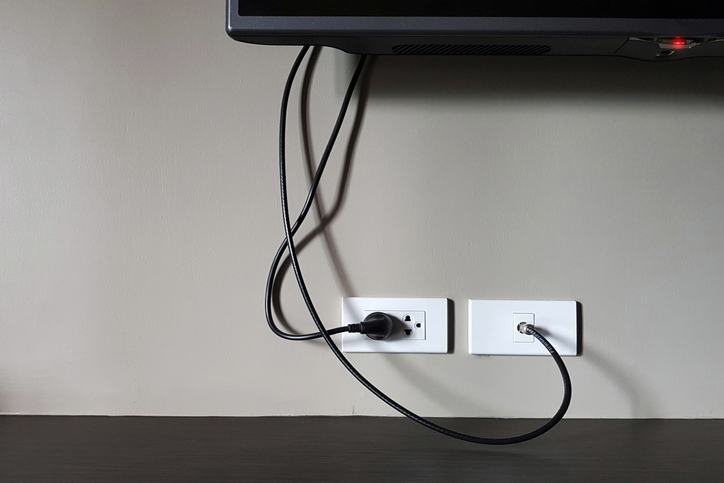 10 Creative Ideas For TV Cable Management
Now it would be the most looking-forward part of the whole article, which is the list of 10 ideas for cable management in your living space. The ideas, according to our examination, are not tricky to conduct. Some may seem to be more complex, but they are absolutely achievable. We would not keep you waiting any longer, and here is the list
Taking Advantage Of Your Table To Manage The TV Cables
Tables are familiar pieces of furniture in every living space. Now it would become more helpful thanks to the support it can offer for cable cords management. When taking advantage of your table, which is nearby the cables' location, you can hide the cords on the side of the table. As you take on this task, there is barely a tool needed. You can even do it with tape alone. Hiding the cords under your table surface is not a bad idea either. There you have one way to hide the cable away from sight.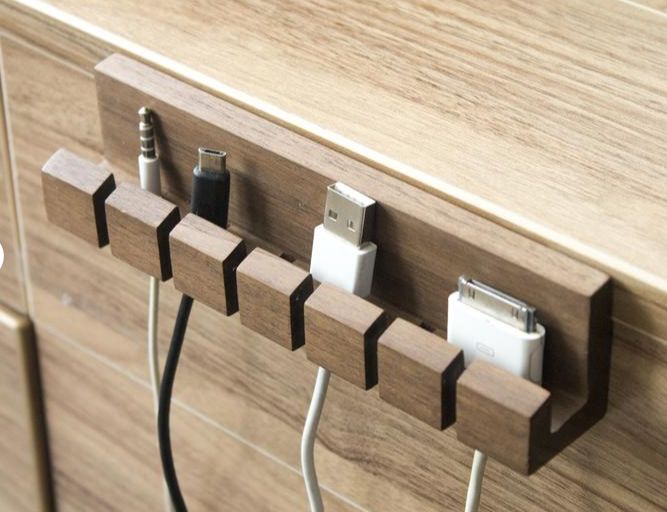 Hiding The Cords Behind Other Pieces Of Furniture
The next idea for cord hiding is not difficult either. For the second idea, you can manage the cable by hiding them behind other pieces of furniture, including a sofa, a desk, or the space left behind your mounting television with a few necessary modifications. Hiding the cable cords behind sofas or desks is one of the easiest tasks to conduct. You will need as few tools as possible.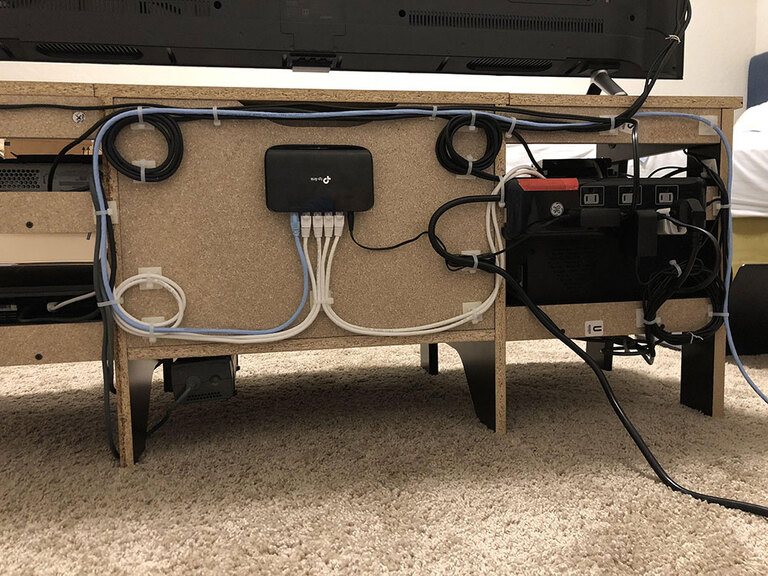 Making A Piece Of Wall Art Out Of The Cords
When dealing with a mess of cable cords, why don't you make a piece of wall art out of it? It is not the simplest method, but definitely the most creative and fascinating way to improve the situation. The most common and least time-consuming wall art for cable cords is in the floral vibes, but the capabilities are endless. Make a few adjustments and grab on your color board, and you should have your pretty but effective cord wall art. You can do it with other art tools, depending on how you wish your final craft to be.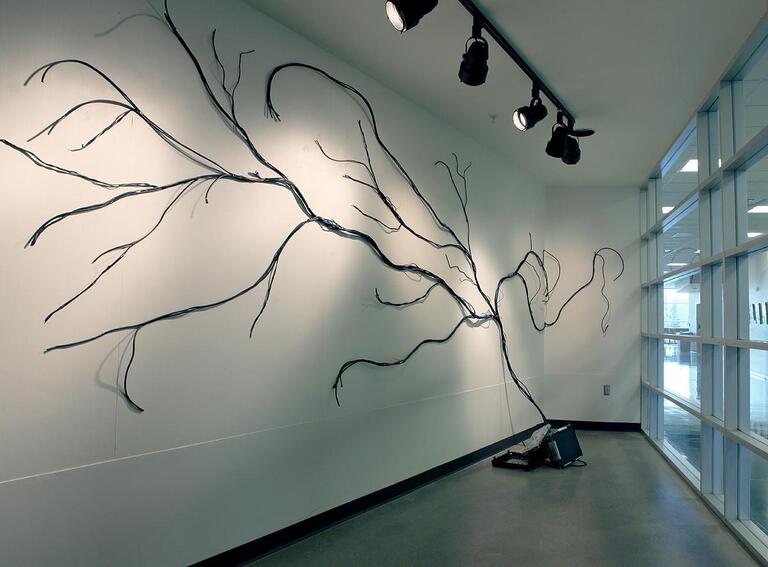 Blending Your Cable Cords Into The Plain Sight
Hiding the cords in plain sight is another idea you can use to manage TV cables. When doing so, you would need a cable sleeve, which acts as a cover for the cables. It is either made of fabric or plastic. Take a cable sleeve and put all the cords you wish to hide inside. Then, you should fix the location of the sleeve. Next, all you need is the compatible paint color for the wall and the sleeve. A sleeve is advisable, but it is not crucial if you cannot get access to one.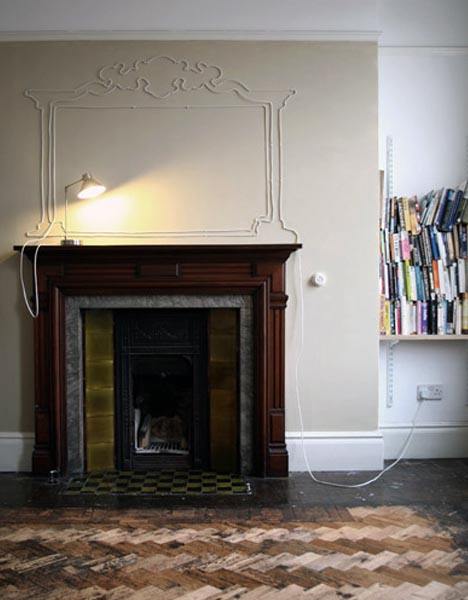 Using Stick-on Wall Hooks
Placing the cords high from the ground is one more choice for cable management, and this is a great way for safety support in the house. With this method, you just have to purchase several stick-on wall hooks, then adjust the cords as you desire. It is easy and not time-consuming for house owners at all.
Purchasing A Cable Tidy Box
A cable tidy box is designed for hiding your cable cords, making them easier to conceal than ever. There have been numerous products made in terms of this section. Purchasing a cable tidy box is not a bad choice. Also, they would make your placement behind other pieces of furniture simpler, or the boxes can be used alone.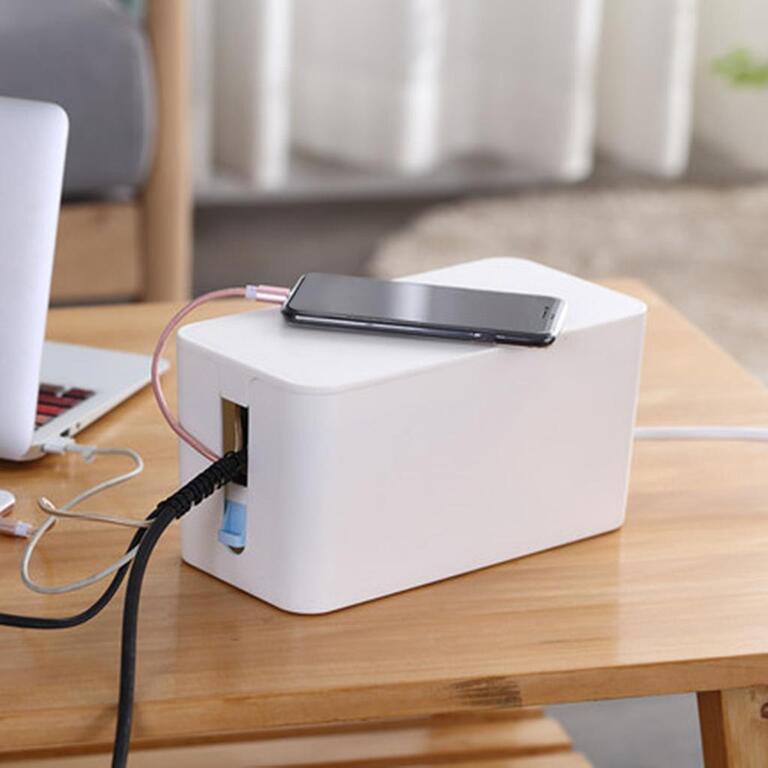 Equipping An Under-Desk Ray
If you don't like your cords to come in one box, equipping an under-desk ray is an additional option for the managing problem. An under-desk ray is almost effortless to purchase and install around the house. As you search for under-desk rays, choose those made of metal instead of plastic for longer lifespan and more remarkable capacity.
Running The Wires In The Walls
This is probably the hardest to conduct but the tidiest to look at the method of ours. Running the cables in the wall may need some help from the professional. Hence, as you do this, ask for help from your television provider. They are sure to be pleasant to help. Or else, if you can conduct this at home, it would be wonderful, and you have the freedom to adjust the cables as you wish.
Using baseboard accessories
For people who do not like their cables in height, placing them on the ground is not problematic. If this is your case, purchase some cable sleeves, remember they should be plastic. Then paint the sleeves if needed, and finally fix their location on the ground for the most suitable usage.
Elevating Your Usual Drawers
Last but not least, our final way to manage TV cables is to elevate your drawer for more functionality. Your drawer then can become a place to hide all the cords through several modifications. It can be time-consuming to find the most ideal spot to make adjustments, but it is worth the effort. Also, this way of managing TV cables is the most sustainable.
Final Thoughts
We have completed our duty of providing readers with a list of 10 ideas for TV cable management. We believe with these ideas, you can now ensure that there should be barely any cord coming as a mess or triggering safety issues around the house.
After you have finished managing the TV cables, there are a few notes you should notice for the sake of cable maintenance, which include avoiding them from any physical damage, both from humans and pets, as well as not letting them have any contact with water. And that's all of our last words.