Painting pumpkins is one of the most exciting activities that do not limit your creativity. Painting pumpkins can be done for numerous occasions as decorations, including the thrilling Halloween. Should you intend to paint pumpkins for your kids, check out the list of the 17 cutest pumpkin painting ideas for babies!
1. The Spidy Pumpkin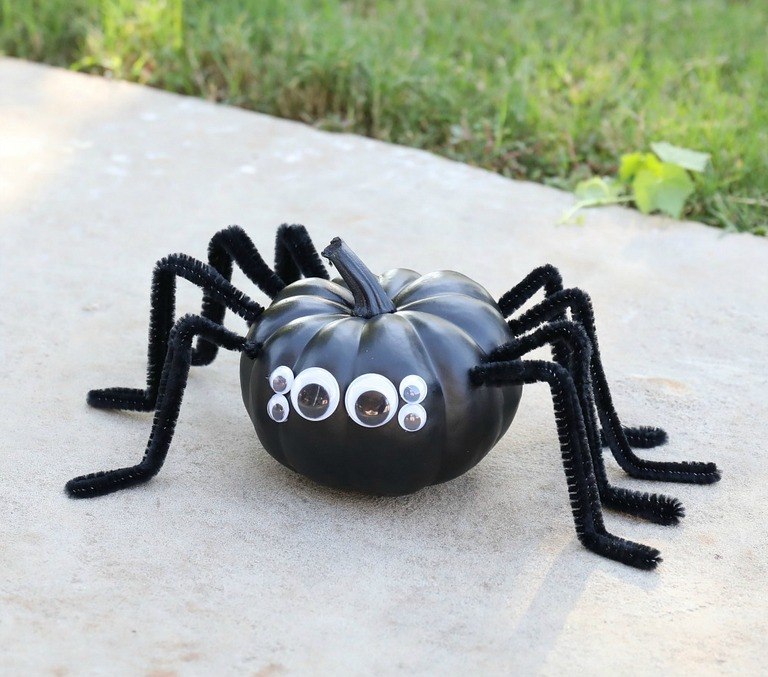 Our first suggestion for baby painting pumpkin ideas is the spidy pumpkin. Our criteria would be adorable appearance and easy to do. A no-carving pumpkin idea is also prioritized, compared to those carved pumpkins.
To make a spider pumpkin, you need back paint with additionals to create the spider's legs and eyes. For the eyes, if you don't want to use a plastic eyeball, you can always do it with the paint. Spray the whole pumpkin with black paint, wait till it is completely dry, then attach the legs and eyes.
2. A Little Ghost Pumpkin
This is definitely one of the most must-try painting pumpkin ideas for your next Halloween. A pumpkin with one or many little ghosts with a cute appearance and much less scary than those from the Ring or Insidious would be much more appropriate for your babies. You can do such pumpkins with your fingerprints or brushes. The little ghost pumpkin does not need so much paint, and it is quick to complete.
3. The Ice-cream Pumpkin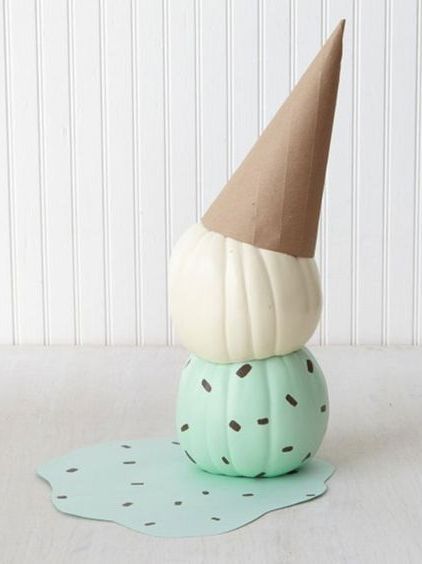 Ice-cream pumpkins require you no carving. All you need to make some ice-cream pumpkins are some paint of any color you like. You can go dynamic or pastel. Also, you may need several sheets of cardboard for the cones. It takes you barely any time or effort. The ice-cream pumpkins are certainly our favorite idea to head for
4. Donut Pumpkins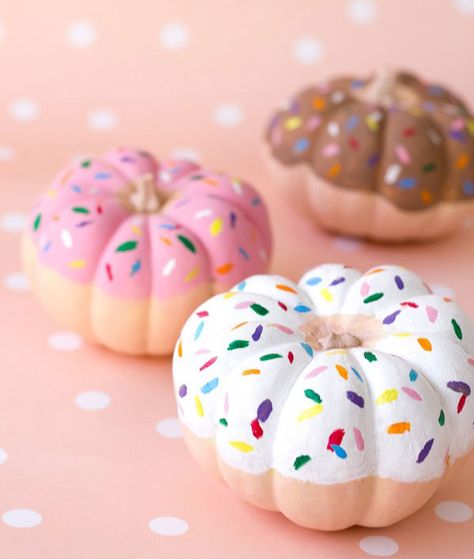 Another dessert-inspired pumpkin painting idea you can try with babies is the donut pumpkins. Once again, this is an easy-to-make project with little effort needed. First, craft out the donuts you want your pumpkins to be. What colors they would have or what decorations you want on top of the donuts. Now that you have briefed the project detailedly enough, get down to the donut pumpkins as soon as you are ready.
5. Piggy Pumpkins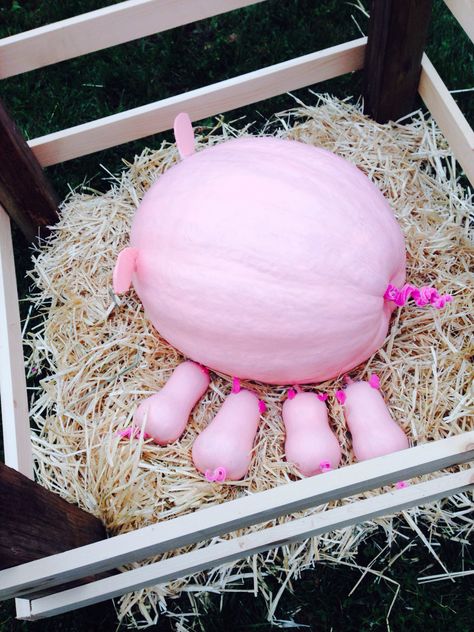 If you and your babies are both pink lovers. Do not miss out on this piggy pumpkin painting idea because it can be satisfying to the eyes. It is adorable with pinky tones, and little time is required.
Prepare one big pumpkin with smaller ones to have a herd of pigs, if you want. Should that not be your case, you only need one pumpkin. Spray the pink paint all over the pumpkin. Then add its little feet with a darker pinky tone.
6. Halloween Mixed-Vibe Pumpkins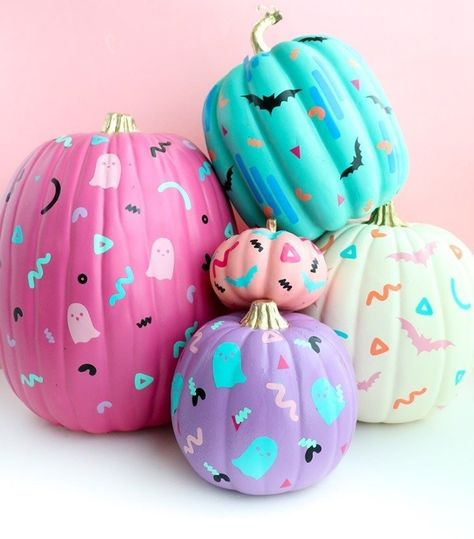 This can be one of your most time and effort-worthy pumpkin painting projects. It is cute to look at with colorful tones and little details inspired by Halloween such as small ghosts, bats, and candies. If we can choose one idea for the Halloween season, this one is undoubtedly on our list.
7. The Bat Pumpkin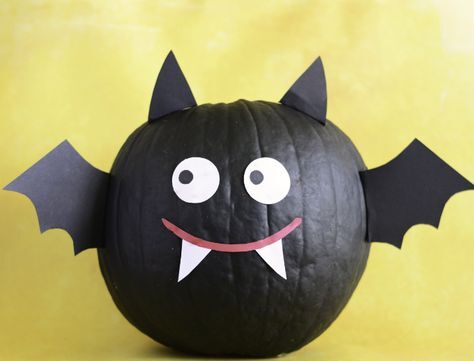 The above idea is a bit time and effort-consuming, even though it is totally worth everything. Here is the minimal version of the previous pumpkin, for bats only. You need a few paint colors, including black, white, yellow, and red. The paint options can be flexible because it is dependent on how complex you want your bat to be.
8. The Olaf Pumpkin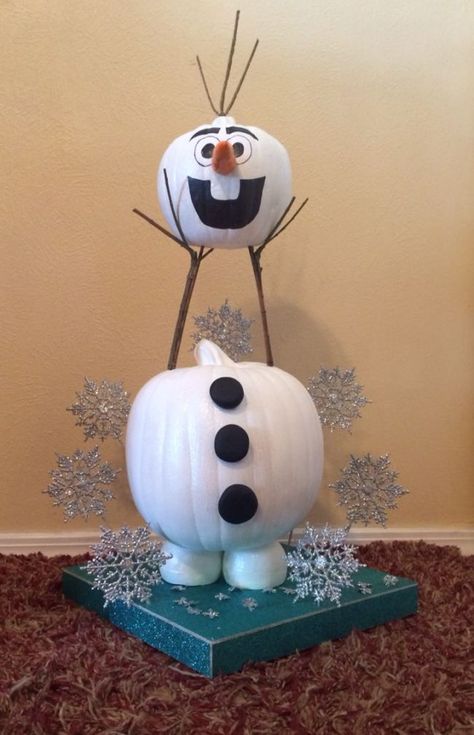 The 8th recommendation would be for Disney fans with the recreation of Olaf from the movie Frozen. The Olaf character is not complex to recreate with pumpkins as some would claim. You need several details for the more lively image of Olaf - the snowman. White paint is no doubt compulsory. Some wooden sticks for the hands are also advised. Besides, don't forget about the eyes, scarf, and nose.
9. The Mummy Pumpkins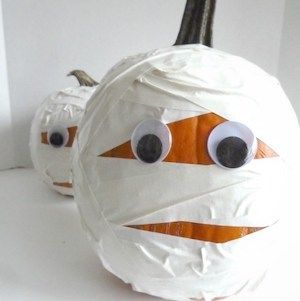 One more effortless pumpkin painting idea you can try for babies is the mummy pumpkin. This is one of the classic projects for Halloween, and it can never go out of date. Take with you some bandages to cover your pumpkin. Also, eyes for your pumpkin can make it look more realistic.
10. Pumpkin Spice Latte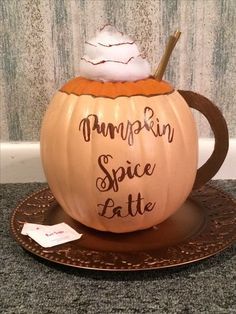 We have just one right here for the coffee lovers. If you fancy the Pumpkin spice latte from any coffee shop, the recreation of this popular drink must be recreated. It is also cute enough for kids. One point which can be considered the shortcoming of this idea is that it is quite an effort and time-consuming one.
11. Emoji Pumpkins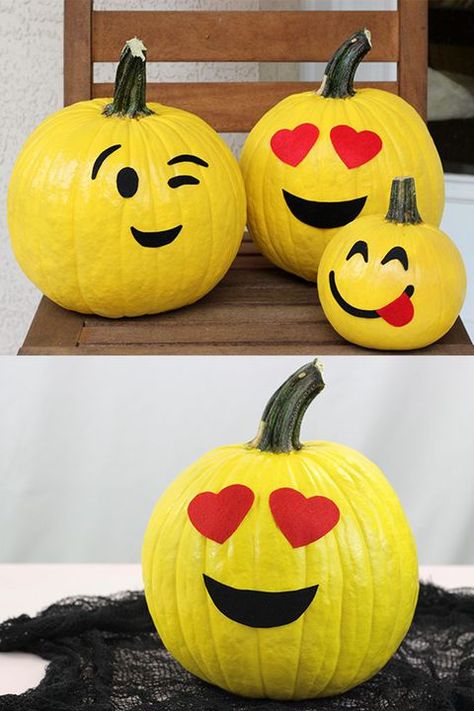 In case you are looking for something fun to gaze at, you can try the emoji pumpkins. They are absolutely suitable for decoration and applicable for numerous occasions, not necessarily Halloween. It is easy to paint emoji pumpkins too, which is a huge plus point. No carving and little drawing are required for these emoji pumpkins.
12. Minion Pumpkins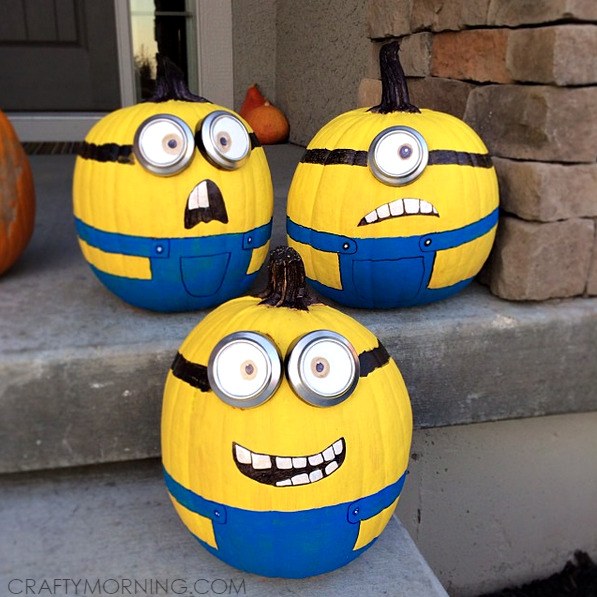 Despicable fans are surely going crazy for minion pumpkins. They can barely take you any time to make. Take a glance at Kevin the minion or Dave, then start your drawing, paint on the yellow and blue colors. You can add some details such as a real pair of glasses made from cardboard.
13. Monsters Inc Inspired Pumpkin
We have one more choice for Disney fans, which is the Monster's Inc-inspired pumpkin. The painting of these pumpkins can be a bit more tricky for those who are not so good at drawing. However, it is only called tricky when you want the pumpkin to look exactly the same as Mike Wazowski.
14. M&M's Pumpkins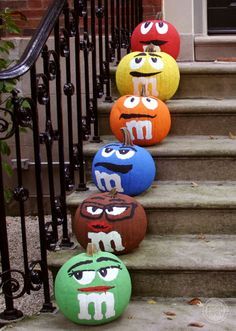 The famous M&M's chocolate can be a good source of inspiration for pumpkin paintings. You would have diverse color options when doing M&M's pumpkins. We also think that the children in the house would fall in love with the idea because they are sweet and familiar to them.
15. Smiley Pumpkins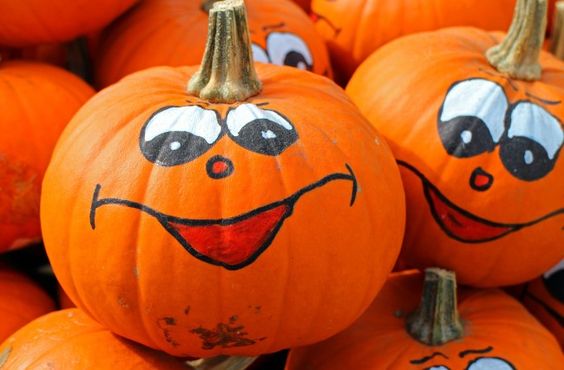 If you want to add some more emotion to the pumpkins instead of turning them into non-expressive items, try a smiley face. It might never go wrong for that. A smiley pumpkin does not require painting a layer covering the whole pumpkin but focusing on the face. It is not time-consuming at all, for it takes quite fast to dry out.
16. Spa Day Pumpkin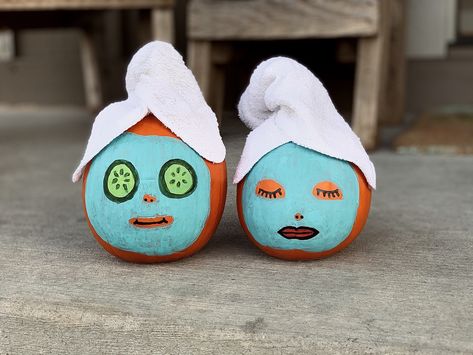 Your baby girl would be fancy about these spa-day pumpkins with all the masking and towel details. If you are looking for decoration, we highly recommend the spa-day pumpkin because they are funny, adorable, and effortless to make. It is also an excellent piece of decoration when the occasion is for women or girls in your house.
17. Foxy Pumpkins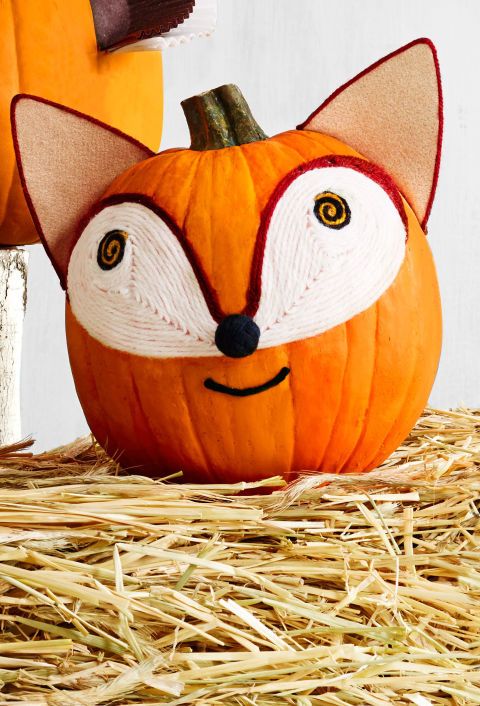 The last suggestion on our list of 17 adorable pumpkin painting ideas for babies is the foxy pumpkins. How can you resist the pretty eyes and sense of intelligence of this species? When applying the inspiration to the pumpkin, you can easily turn the sassy look into something much more adorable without messing up the foxy features.
Verdict
There you go our list of 17 cutest pumpkin painting ideas for babies. Hopefully, with the list provided, you have got something in mind for the upcoming pumpkin painting DIY projects!