Are you looking for wall decoration ideas within a small budget?
We all love beautiful wall decorations, especially pictures related to our own life. It will create its own character and be decorated according to personal taste.
Wall murals save money and don't take much time. Ideas for wall pictures, which can be turned into fun projects to do with your kids and the results won't let you down.
Nowadays, the trend of decorating with pictures is a trend. If you do not know how to decorate to be impressive and unique, please refer to the ideas below.
1. Colorful wall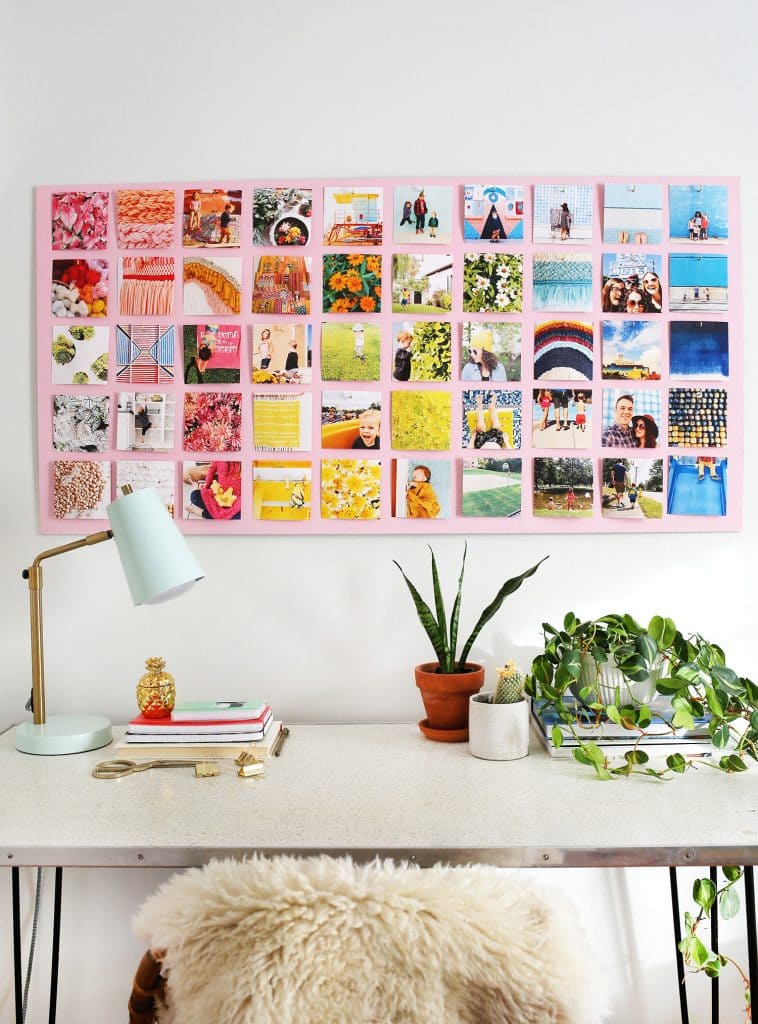 You are a pop of color, very simple. You can create striking mosaic photo wall ideas by pasting your colorful square prints onto colored paper/cardboard. Then mount them on the wall. So easy.
2. Black and white theme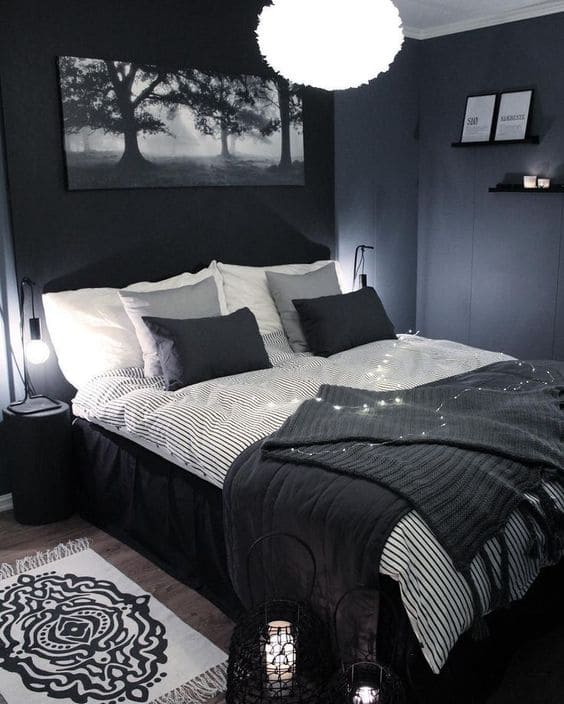 Black and white is always the classy theme for your photo wall! The two-tone theme works especially well for solid-colored walls. Select a series of images with contrasting shades and print them in black and white. You can frame your paintings or order them as premium canvas prints for a more elegant effect.
3. Fairy wall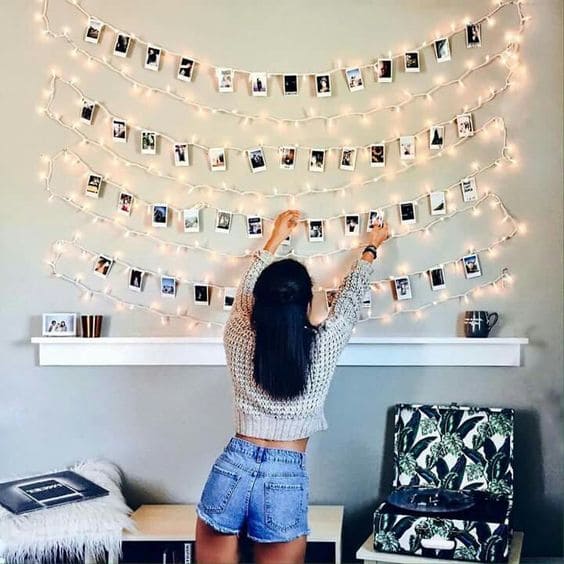 If you are a dreamer, here is an idea for you to choose from. They are cheap and beautiful, and easy to make. It gives a warm effect to your room. What you need to do is very simple, just clip Retro prints or square prints to the wire, and you will have a beautiful wall art idea in less than 30 minutes.
Use mini wooden pegs for a classic look, or colorful pegs for a more vibrant style.
Can be decorated with string lights, creating a shimmering and more beautiful feeling.
4. Wooden hanging frame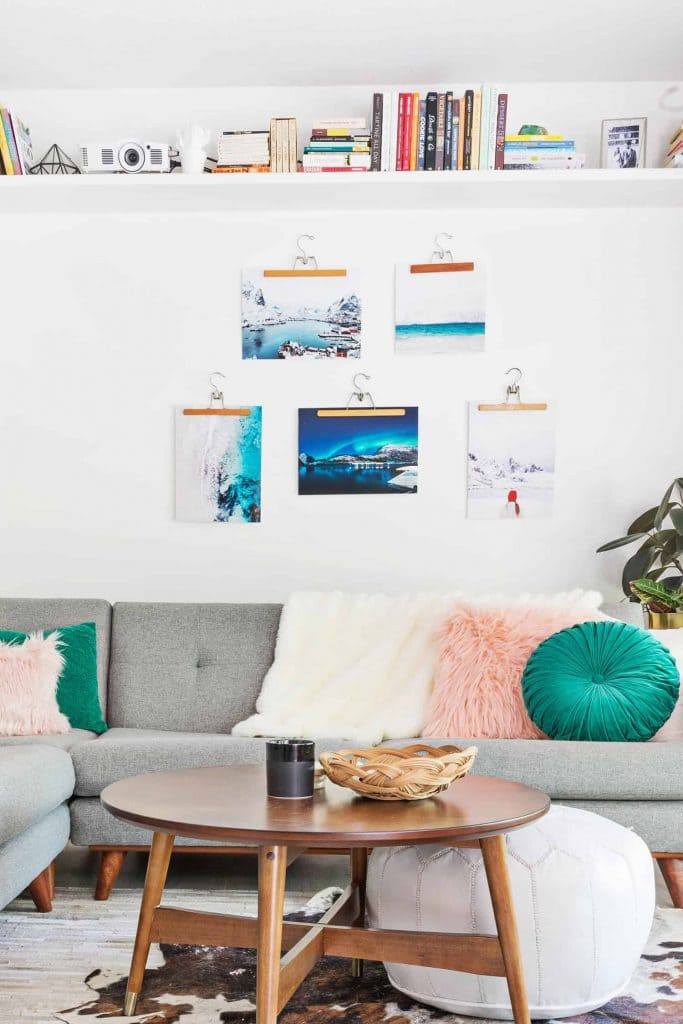 A wooden photo wall is one of the simplest, coolest ideas you can do with kids. Collect a few wooden hangers and stick your photos on them.
You can clip 1 or more photos on each hanger. Mix it up to make it fun and exciting.
5. Blackboard gallery wall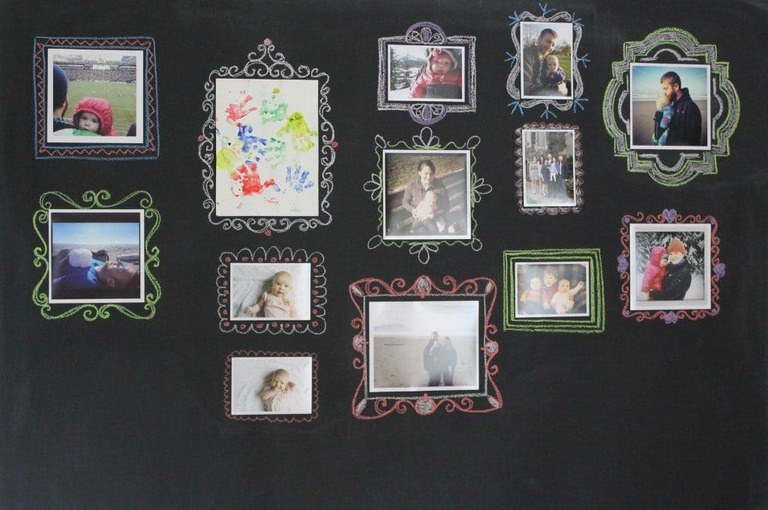 This is a project that you can give your kids for an affordable price. Just stick your photo prints on the wall and draw frames around each photo. You can also add notes or drawings, whatever you want. You are free to be creative.
6. Grid display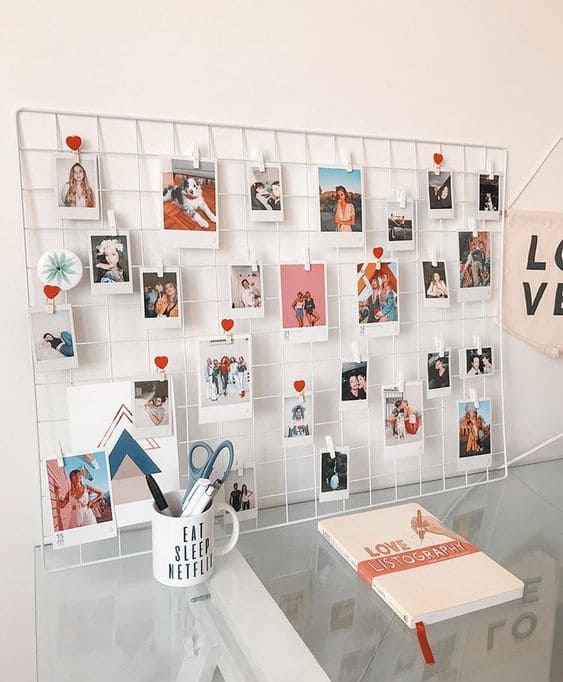 When you can't hang something on the wall, you can still decorate it with this grid for the photo wall. Put it on your desk or dresser, and stick your favorite photo on the wall ideas.
This net can be made of metal, or more economically, made of strong wire. Knit them into a grid and attach the photo. It doesn't take much time.
7. Bigger picture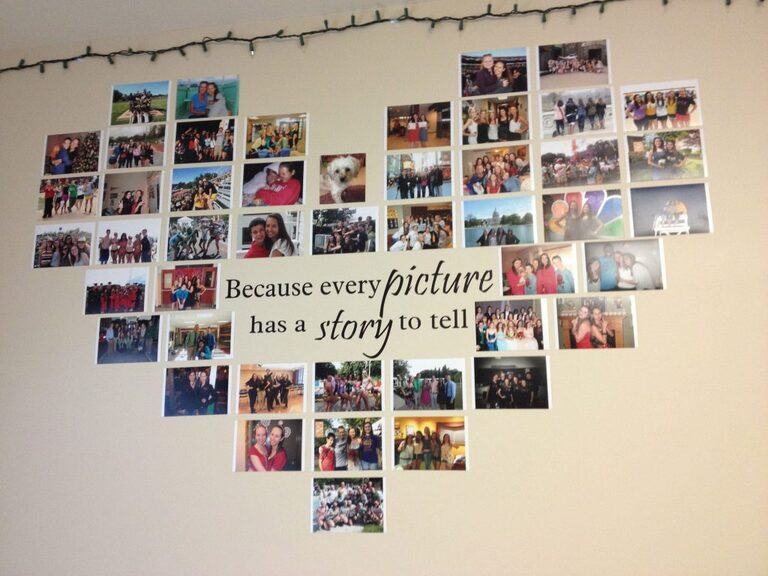 Use your wall as a canvas and your photo as elements of a larger picture. Put them together as small puzzle pieces to form a specific shape. For example, you can use various family photos to represent the shape of a heart, or make a tree.
Think of it as a handmade collage on your wall. Make the larger picture look similar to other wall decor images, softening the surrounding subject matter.
This photo decoration idea allows you to unleash your creativity.
8. Hanging photo albums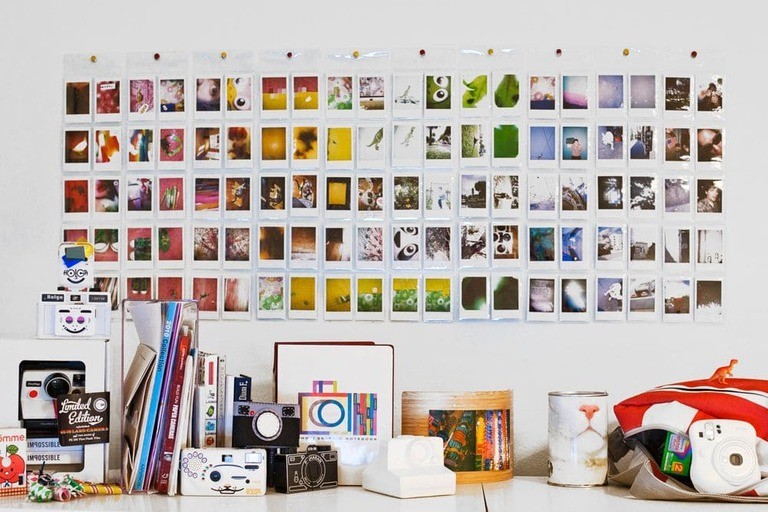 Do you want to make a big picture hanging idea on your wall, you don't feel uncomfortable with the boring job of pasting each picture on the wall idea, you are a person who has a lot of free time. This hanging photo album will be the solution.
You can purchase transparent hanging file sets with pockets. All you need to do is fill the pockets with your photo prints and hang these organizers on the wall.
9. Cover photo clip wall
Buy a bunch of cardboard clip photo holders, clip your photos and hang them on the wall. Alternatively, you can clip them to a piece of string for a garland photo hanging idea.
Vintage prints are perfect for this idea, you can also scribble to add to the memories.
10. Photo banners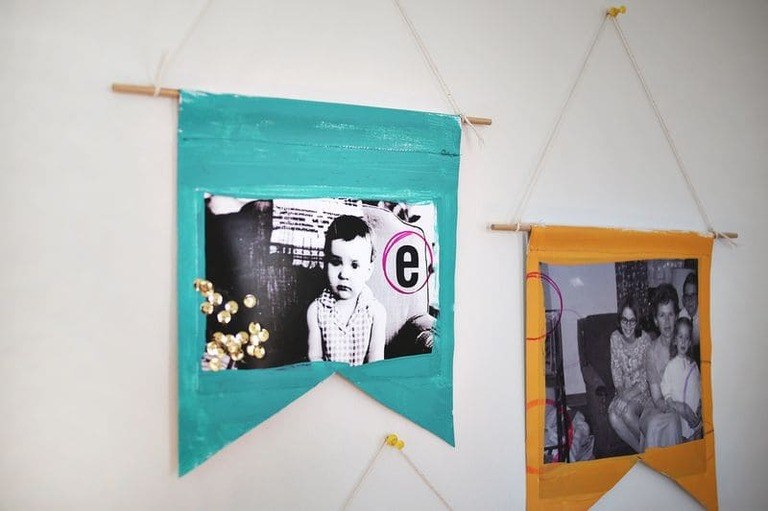 This photo banner will create a unique idea for the mural. You need to prepare a piece of canvas paper, string and a stick for each banner. Wrap a piece of paper around a stick, which is threaded through to hang them. Follow this super easy banner art tutorial to make banners.
It's also a fun experience to do with kids, as they can draw banners, paste photos, and add handwritten notes if they like.
11. Ribbons frame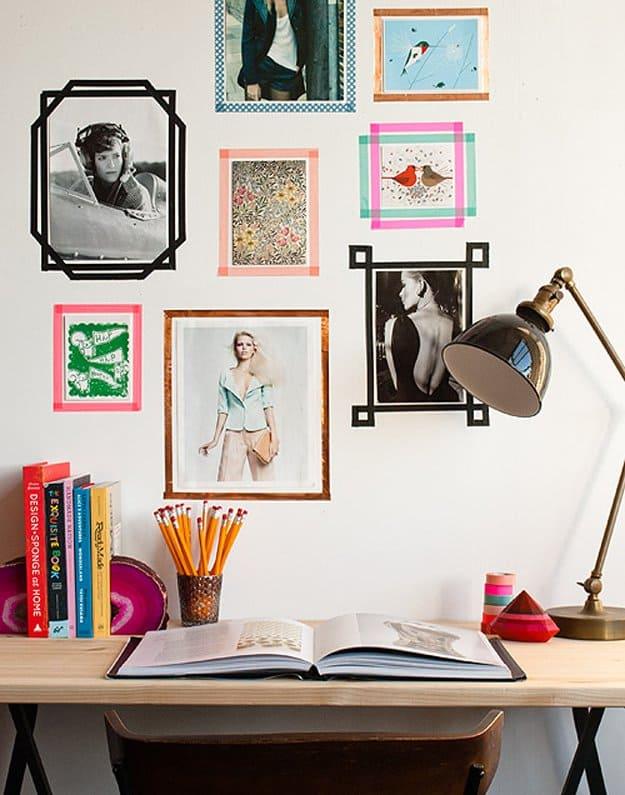 Beautify your photo wall murals with colorful ribbons. Use these tapes to 'frame' your photos, and you'll have great wall art ideas.
12. Clipboard photo wall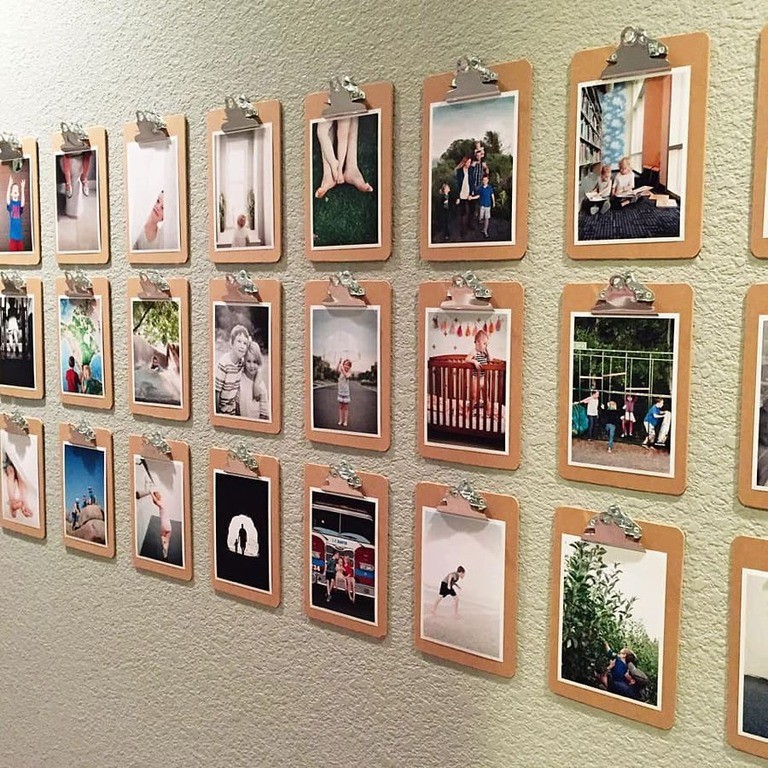 Use a wooden clipboard to frame your printed photos. Simply clip a photo to the clipboard and hang it on the wall.
Note that the size of the clipboard determines the size of the printout. Select a print size 2 inches smaller than the clipboard width and height. You need to leave a margin of about 1 inch on each side of the clipboard for neatness.
13. Photo separation wall art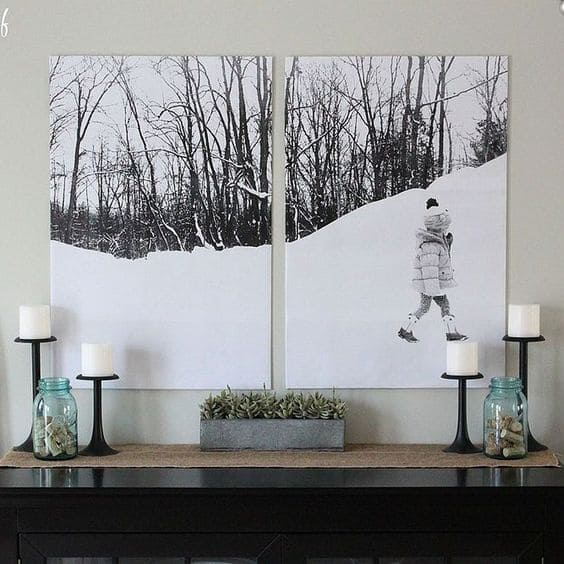 Choose 1 of your favorite photos and divide it into 2 or 3 parts (you can split it with a photo splitter app). Then print the divided photos and hang them together on your living room wall.
This idea avoids using frameworks. Use canvas prints or docked prints to create a seamless display.
14. Rustic window frames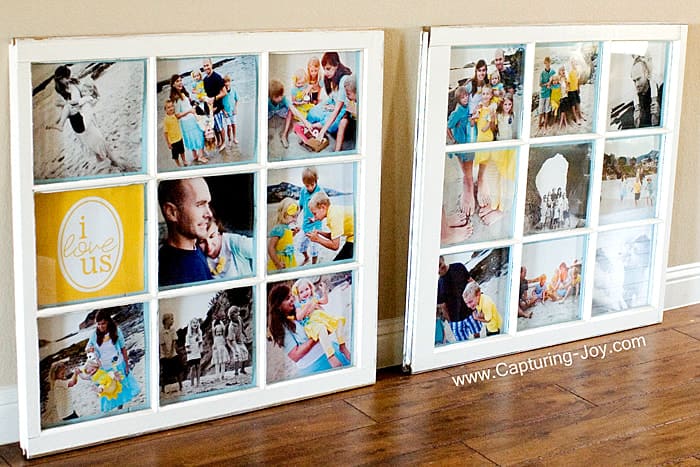 Old windows can be used as a screen for a photo wall. Create a classic look. All you need to do is take the right measurements and place your photo in the frame.
Worn window panes will give a rustic effect, but if you want a cleaner look, you can repaint it in your favorite color.
15. Big frame, small print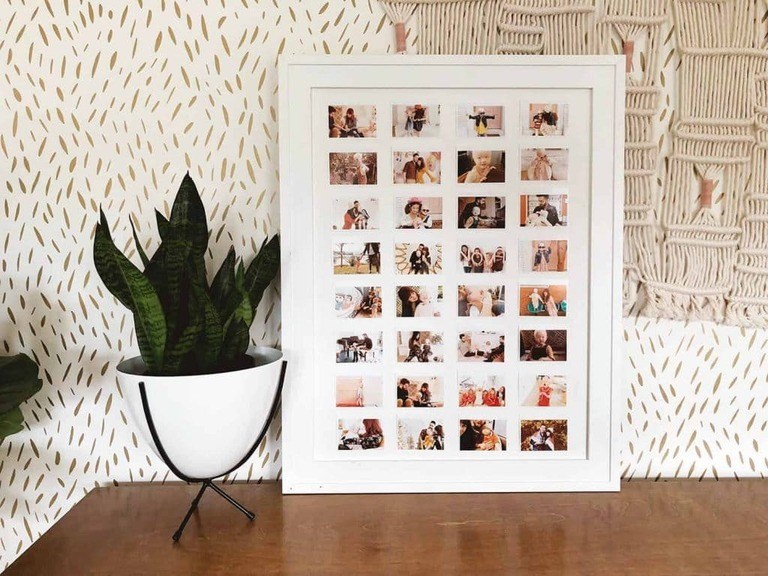 You will only need a bunch of small prints and a common large frame for all of these photos. The next job is to paste the photo on the frame. It's simple and sophisticated, perfect when you're looking for a quick, easy idea.
16. Create a timeline on the wall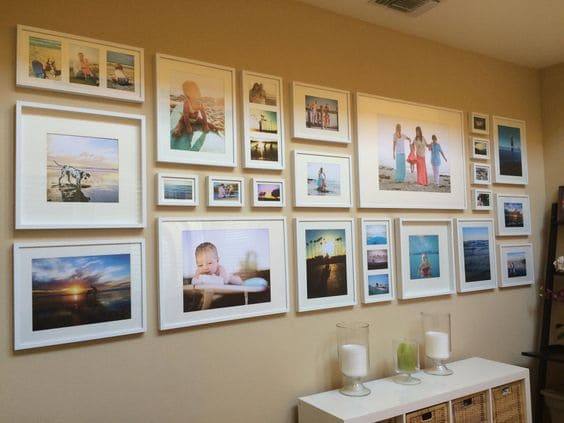 This is a pretty fun photo wall idea. If you want your photos to tell a story, then a wall timeline is the way to go. Collect photos from various chronological moments in your life and place them in a suitable chronological order along your wall. Interesting and unique idea.
For a more interesting effect, you can place them along the steep walls of the stairs for an impression.
17. Minimalist portrait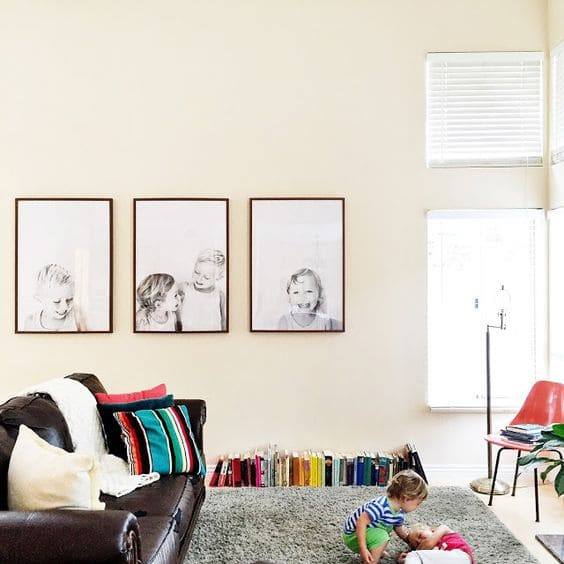 If you fancy elegant and minimalist decor, this idea is for you. You don't need too many photos, just choose 2 or 3 favorite portraits, print them large and hang them on the wall. You can use wall frames or canvas prints if you want a different style.
18. Ombre wall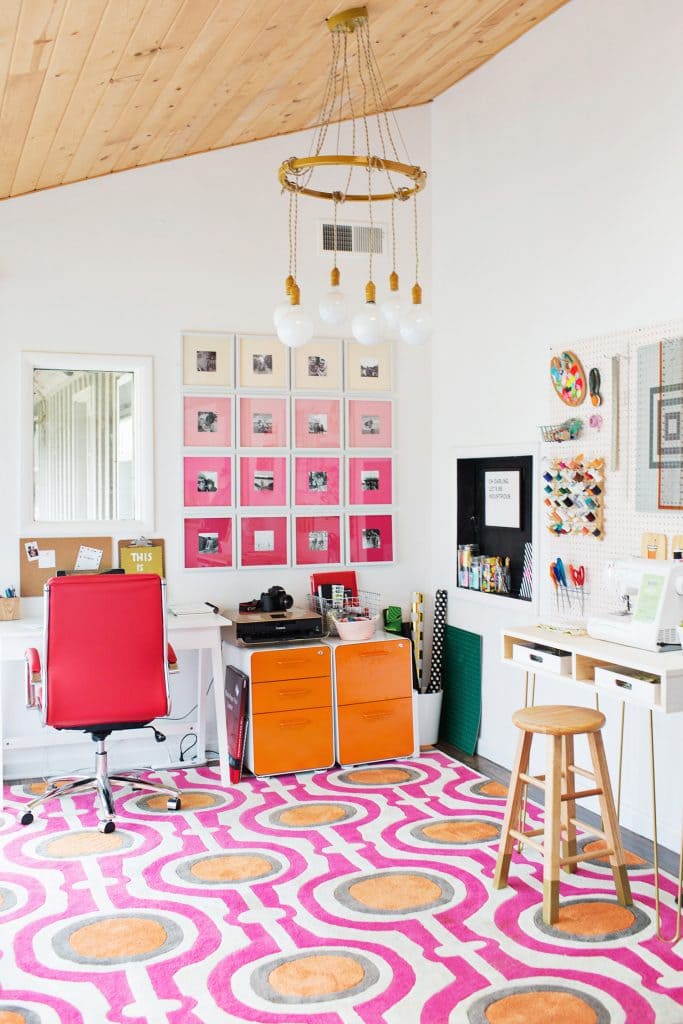 Here's the idea to take your love of colorful painting to another level by creating this ombre photo decoration idea. Use several colors for smooth, dramatic gradations, from pale to most vibrant. You can buy picture frames at a reasonable budget, or you can do it without a more affordable option.
19. Photo frames and collages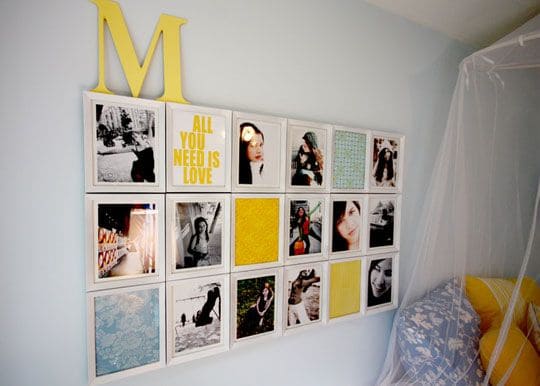 It's not necessary to just hang pictures on the wall. Your photo display can be combined with quotes, wall art or fancy patterns for extra fun.
20. Layered photo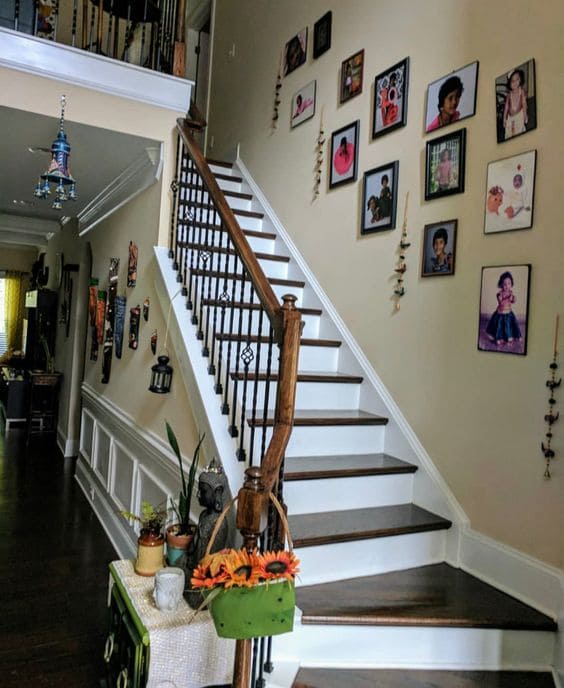 Align your photo frame along your wall up and down your stairs. These murals are guaranteed to create an enjoyable viewing experience every time.
21. Mixed-medium photo wall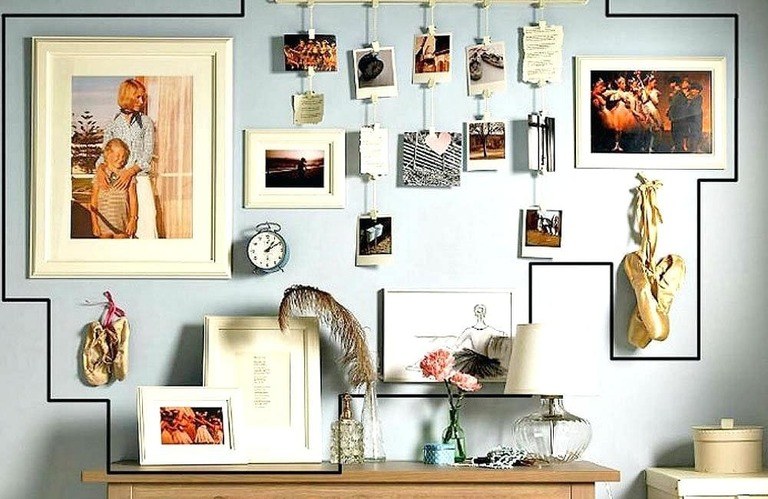 The idea of decorating your photo on the wall is not always the same. Combine photo prints with framed images, it becomes small props or keepsakes that mean a lot to you.
22. Decorate photos in the shape of letters
The pictures on the wall arranged in the shape of letters will partly show your personality. This contributes to making the room extremely attractive and attractive.
23. Hang photos according to the map of places you have traveled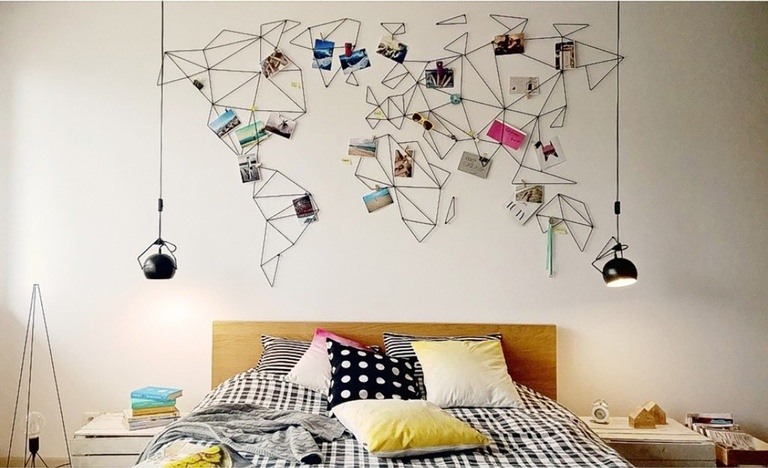 Experiences in each different land are memories worth remembering with beautiful photos. Decorating the bedroom by hanging pictures according to the map helps us to see the special places we have visited, to reminisce and feel proud of our youth and our travels.
24. Hang photos around a clock
The passing memories are a memorable time and hanging those photos around the clock is a very unique and smart decoration. This decoration makes it easy to look back on the good times we have spent and appreciate the moments we have.
25. Hanging pictures according to decorative tree branches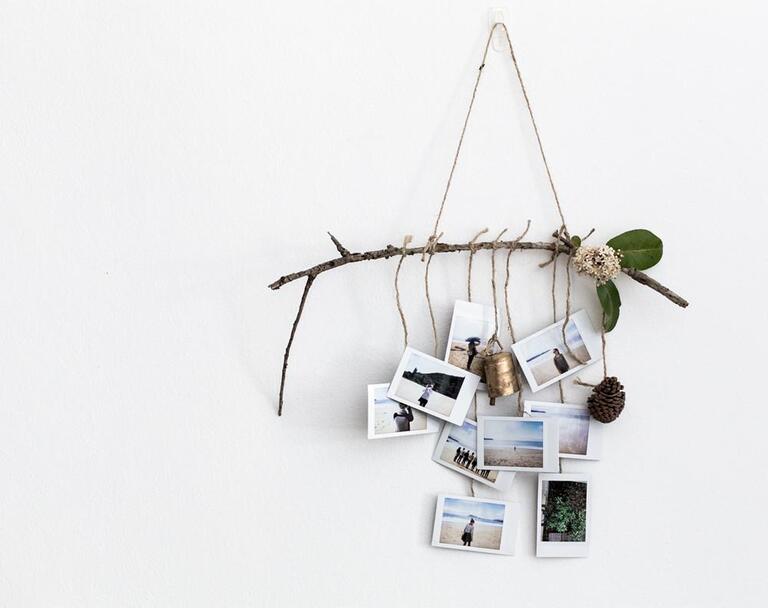 A tree branch painted on the wall with pictures will create a new feeling for the room. These photos are like the sweet fruit of a tree and are proof of your growth over time. You should choose special photos to hang and should not hang many pictures on the tree branch, it will create a confusing feeling.
In addition, you can take advantage of the dry branches and make some variations with some ropes, flowers, or bows to decorate your photos very nicely.
Conclusion
Photos are pasted everywhere in the room or on a wall, a certain space is a very simple and easy way to decorate but makes your space much more artistic.
Above is a collection of bedroom decorating ideas with photos that you can refer to. Hopefully these sharing will help you create a relaxing space that is extremely attractive and unique.