Setting up an entertainment center for your own is not as tricky as some would say. An entertainment center is occasionally mistaken for its confusing name. An entertainment center is like a drawer or cabinet used in multiple places around the house, and it makes an essential piece of furniture, especially for households with a wall-mounted or placed TV. In the section below, we are going to guide you on how to set up an entertainment center for yourself as clearly and simply as possible.
What Is The Entertainment Center?
As mentioned earlier, an entertainment center is almost like a cabinet used around the house. However, the slight difference between a cabinet and an entertainment center is where you put them.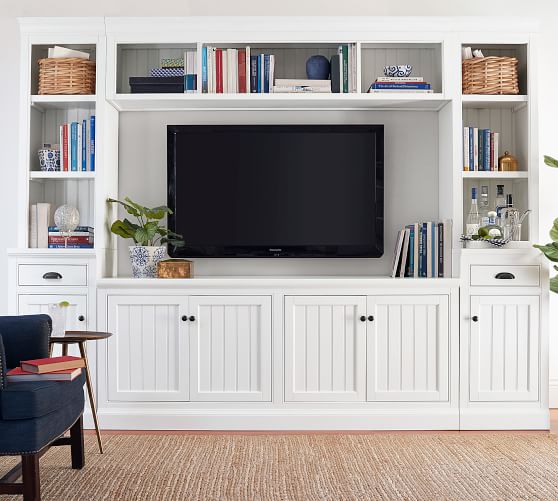 A cabinet can be placed everywhere, while an entertainment center should be placed in the living room, bedroom, playroom, and office. An entertainment center would normally stay under your wall-mounted television, or it is a place you put the TV on.
The entertainment center can sometimes not focus on functions, including storage or organization, unlike the cabinet. An entertainment center with technology applied can even have a decorative electric fireplace, which seems to be incredibly ideal in modern house layouts as they really add up the character.
Some of the entertainment centers, on the other hand, focus on storage and organization capabilities. They are sometimes called cabinets with extra capacity for home organization. Several entertainment centers are specially designed for this purpose. And in many cases, entertainment centers are used as both home organizers and displays.
What Are The Types Of Entertainment Centers?
Speaking of types of entertainment centers, there can be a dozen. The first clarification would aim at how they are installed - ground-placing or floating. One thing about these two types of entertainment centers is that ground-placing items usually have a greater capacity and solidity than floating ones. Nonetheless, the floating entertainment centers are space-efficient, eye-pleasing, and flexible. The other classifications for types of entertainment centers would be materials, major functions, and even price ranges.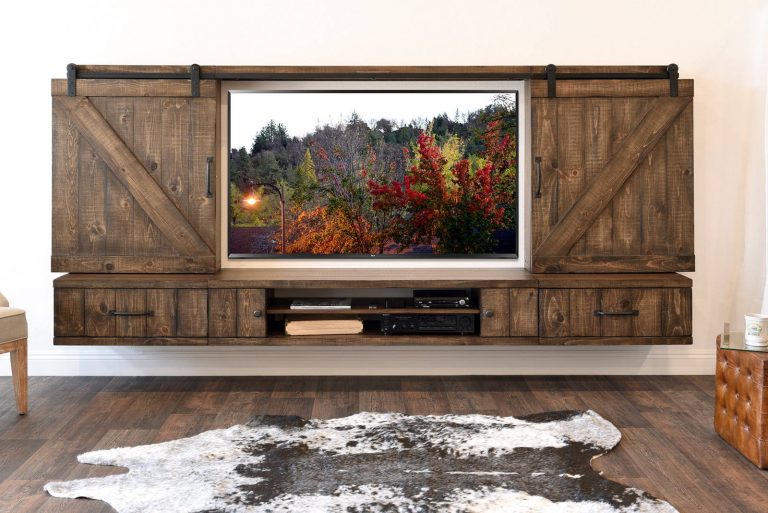 How To Set Up Your Own Entertainment Center?
Now it would be our guide on how to set up your own entertainment center. We will be going through location, installation, arrangement, and storage area adjustment. After this section, we would also inform you with notes on how to maintain and choose your entertainment center as well.
Where You Can Place Your Entertainment Center?
The first thing to bear in mind is where to place your entertainment center. This is dependent on lots of factors, which include what your greatest user demand is, how wide is your living space, and how you would use it. The recommended places to put your entertainment center are the living room, playroom, and home office.
If you are planning to have a wall-mounted TV in your bedroom, it is not a bad idea. However, avoid having an entertainment center wherever there are fire hazards and watery contacts since most entertainment centers are from wood and metal. Also, consider the size of your entertainment center in advance of deciding where to place it is advisable.
Installing Your Own Entertainment Center
The second task for you in the process of setting up your own entertainment center is the installation, which is not pleasant for some shoppers. You may have either a ground-placing or floating entertainment center with the exact spot you put it on. In this installing part, take out and check for every detail needed to put the center together. Then check the manual instructions carefully for the installation process. Each entertainment center may have its own way of installation. Follow the instructions step by step strictly. As you have put them all together, you must check for solidity and safety.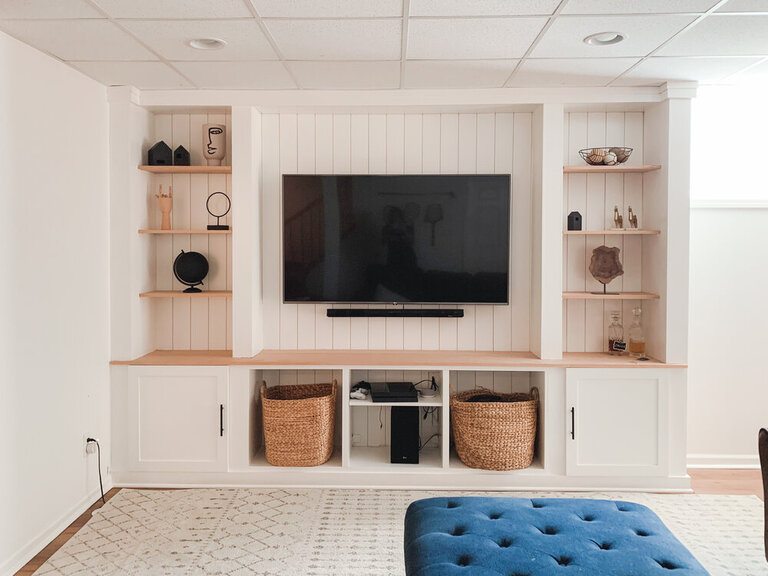 What To Put On Your Entertainment Center?
The answer to what to put on your entertainment center is going to be the arrangement part. For arrangement, we highly recommend that you don't have too much on it for the sake of appearance and safety. One entertainment center has a certain capacity. So don't put many heavy-duty objects and not too much.
The entertainment center should have space in its storage unit, and this applies especially to open storage areas. For centers with hidden cabinets, you can have cable management and more flexibility to store them because they are not showing off. However, the open storage area needs a touch of elegance to look eye-pleasing. Having some decorations such as sculptures, paintings, vases, and plants would make the space look brighter and more aesthetic.
How To Deal With Storage Areas?
The storage area is one functional part of the entertainment center. If you are doing a multipurpose entertainment center, you would have greater flexibility to adjust and organize the center. For the open storage area, you may have to add up some decorations, but they are still excellent for organizing around the house. Hence this should not be a huge concern. Not to mention, the storage areas of most entertainment centers are adjustable to suit the needs of consumers.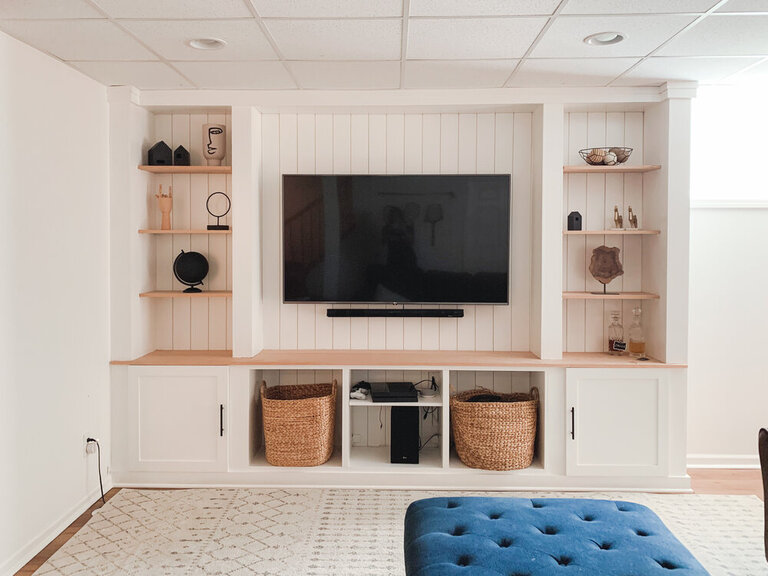 Notes For Entertainment Center Setup
There are our few notes for your longer and more pleasant use of an entertainment center. You should be paying attention to two major factors: capacity and maintenance, and here are our explanations.
Capacity Of Entertainment Center
A ground-placing entertainment center is more likely to handle it better than a floating one. They have remarkable support from the frame and stands, allowing them to take on heavy-duty tasks, among which is supporting your television. Notice how much your entertainment center can deal with before placing all the stuff on it. If taking on an exceeding weight for far too long, your entertainment center can collapse at any moment given.
Maintenance For Your Entertainment Center
You don't necessarily spend an expense to have your entertainment center cleaned or maintained after you have purchased it. Maintaining is not that much hard work at all. Leave it in a high and dry place without direct exposure to sunlight. Avoid water and spots that have fire hazards. Wood and metal are not the best materials for fire retardant and fire resistance. Clean the entertainment center at least once a month and check regularly if there is any spot that seems problematic. Those are all the tasks you should do when maintaining the entertainment center.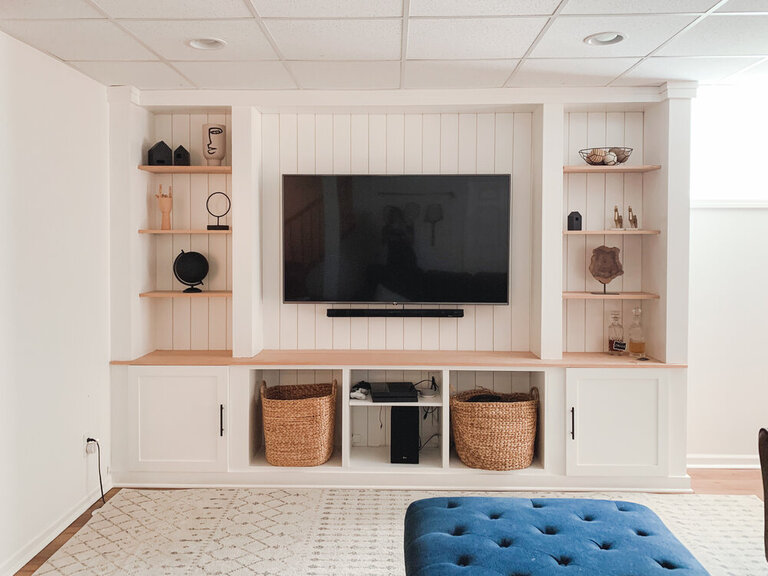 A Brief Guide On Purchasing An Entertainment Center
Measurement: measurements refer to size. Consider your TV or user demands to choose the size of your entertainment center correctly. The smallest entertainment centers would be somewhere around 40 inches to larger ones of 75 inches in length.
Material And Frame: wood and metal are advisable for their durability and solidity. Your entertainment center appears to handle quite a lot during its service, so why not choose a durable and well-constructed one?
Storage Area: the most important thing about the storage area is that it should have both open and hidden cabinets for flexible use. The hidden one can do with cable management and storage, while the open one can deal with the decorative display.
Budget: the last thing you may want to check in advance is the budget. For affordable choices, you can refer to 150 dollars and below (around 90 to 100). The higher ranges can go from 400 to 1000 dollars. Floating entertainment centers are much cheaper than ground-placing ones
Final Thoughts
That is our information on how to set up an entertainment center for yourself. You can do it at home or in your office, if possible. An entertainment center is not necessarily a personal display but much more than that. They are helpful and beautiful pieces of furniture around the house.