Shelves are important items in our bedroom. They only make room to store our stuff but also are ornaments in the bedroom. Shelves, as well as other furniture, should be properly chosen and decorated. This article is going to show you common decorating mistakes, some tips to decorate your shelves appropriately, and several styles you can follow in terms of bedroom decoration.
1. What mistakes are you having in shelf decoration?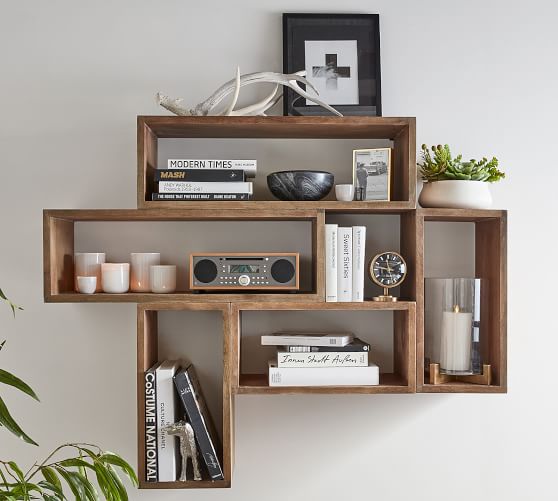 As mentioned, when improperly ordered, a shelf may not be in maximum usage. Also, it can make your bedroom seem messier. Here are some common mistakes we often see in shelf decoration:
Unsuitable size: Sizes matter - this applies to all furniture, not just shelves. If you have a small-sized bedroom, a large shelf can make your space feel much closer and give out a sense of discomfort. A bedroom should have shelves of compatible sizes.
Types of Shelves: There are two major types, which are standing or hanging. The hanging shelves are becoming more popular these days because they are easier to mix and match. They are space-saving too, compared to the standing shelves. If you are in a small bedroom or you want to make your room more open, a hanging shelf is more fitting than a large, standing one.
Too much or little stuff on your shelves: Many people are still making this mistake. They usually put too many objects including books or ornaments on their shelves. This makes the elegant look vanish, and the shelves look messy.
Incompatible color palette: One more mistake people make is choosing the wrong color of shelves. How would a white shelf fit in a vivid decoration style or a bright color go well with its contrast ones? Lack of compatibility is discouraged in home decoration.
Lack of textures and shapes: Lots of people use only one or two shapes and textures to decorate their shelves. To some people, it is enough to have as few shapes and textures as possible. Most of them may follow a minimalist style or have no intention of decorating their shelves. However, it is advisable to add up textures and shapes to make your shelf look more appealing.
2. Ways to decorate your bedroom shelf
Since we have just pointed out the common decoration faults, we will now illustrate how to elevate the look of your shelf while making the best of its use.
Pick a decoration style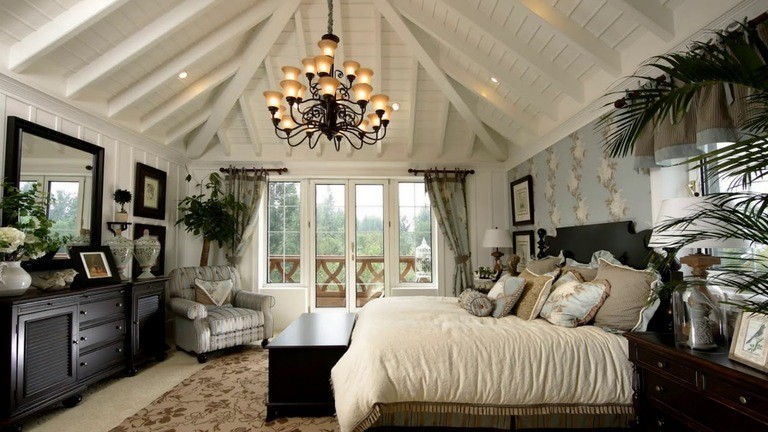 This is the first thing you should determine in house decorating, not just shelf. If you are a person of strong, energetic, and vivid vibe, some styles such as Art Moderne, Arabian, Bohemian, or Amish will be ideal. They all represent the sense of strong characteristics and the brightest color tones to the dark ones.
If you are the type of more neutral styles, Brazilian, African, American Country, English Country, and Cottage will be perfect for you. They are not as strong as the Arabian or Amish. They are more like a combination of neutral and highlights of more significant color tones.
The third group is for those who favor the light and elegant space. Recommended styles for you are minimalism, beach or coastal house, Danish, and English. Several more ways to follow include European and Farmhouse style.
A color palette comes secondly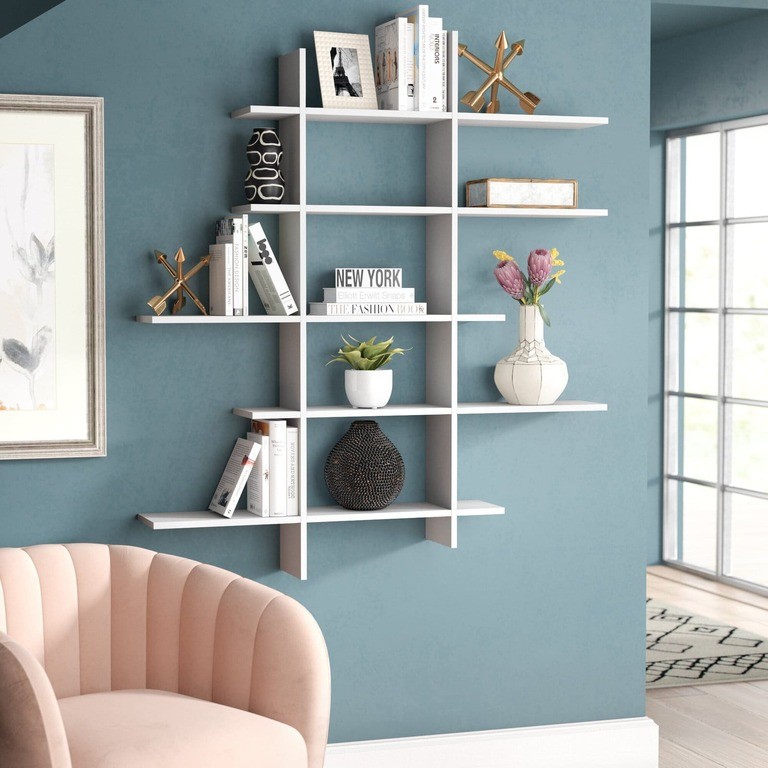 Since we have talked about styles in the last lines, it's time for the color palette. As you have determined your go-to home interior style, you can easily pick up a color palette that matches all the furniture one to another.
Specific colors go well with each other. Some are not. Too many bright colors belonging to hot and cold tones can confuse your living space, including your shelf. For instance, if your bedroom is in light colors such as pastel or beige, a white shelf may blend in well enough. Or should your bedroom be painted beige or white, a dark brown shelf can be a perfect highlight. The final touch will be the more minor decorations.
Textures and shapes create the difference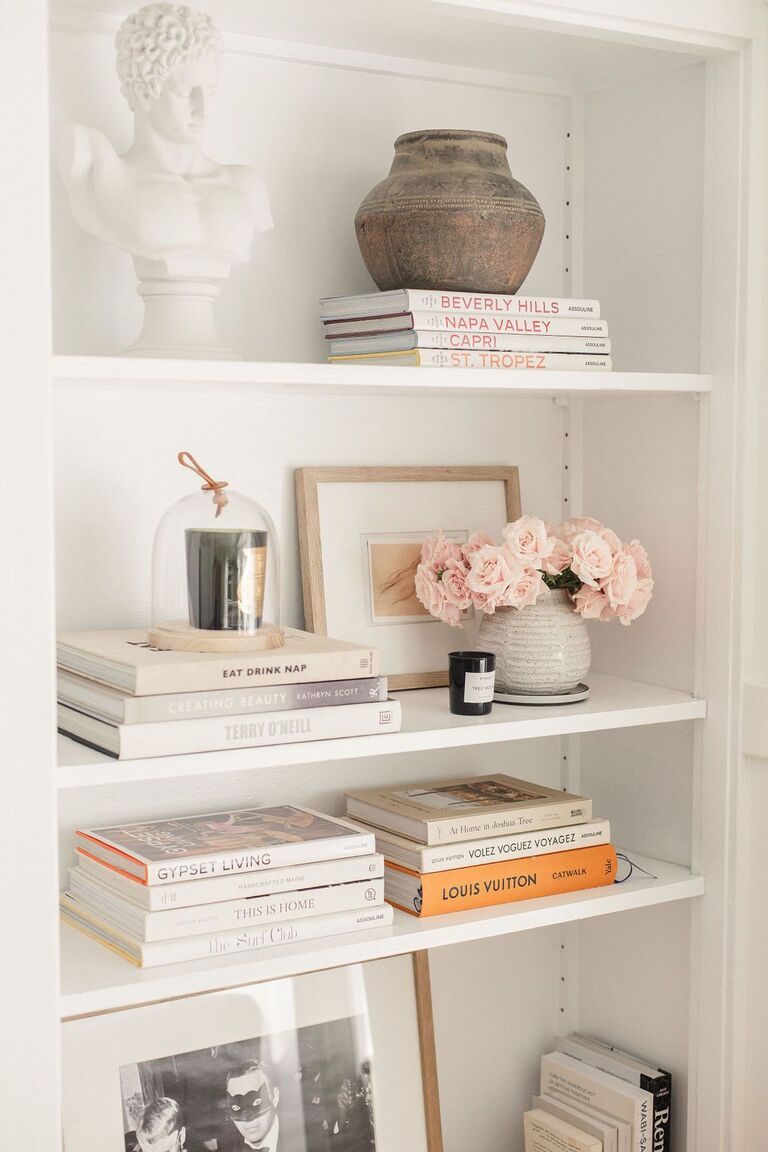 After deciding the shelf style, color palette, and type (standing or hanging), let's come to the step of decorating. A few items to add up are books, paintings, potteries, souvenirs, properly folded scarfs, and plants.
These decorating items mentioned are of different textures and shapes, and a compatible combination of them is the key to an appealing shelf. The most common way people use is to place them alternatingly.
We suggest you put on for your shelf decoration are books, sculptural objects plants, and potteries, particularly vases. Books and potteries provide an accordant look, while plants represent a sense of elegance and freshness. Moreover, sculptural objects give an aesthetic vibe.
Arrange the objects on your shelf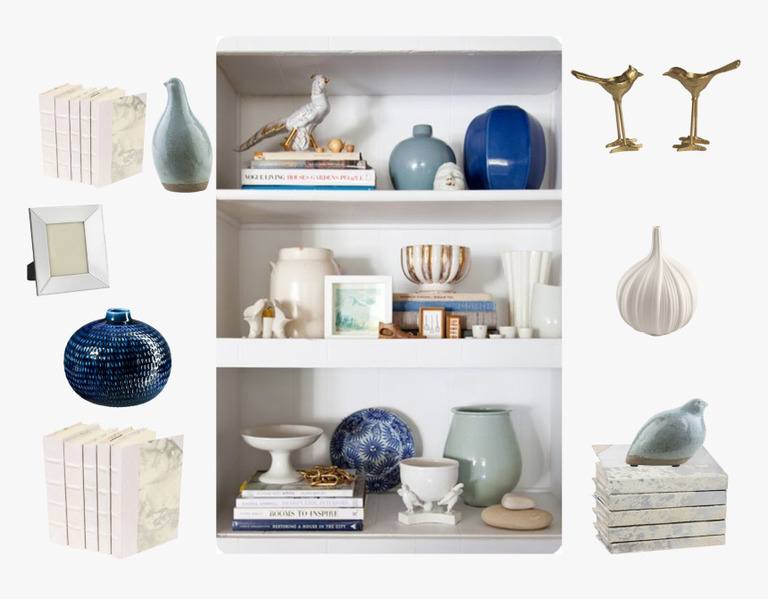 Adding up decorations also depends on some regulations and tips for the best result. Firstly, the colors need paying attention. Ensure that the items' colors on your shelf are compatible with the general style. Besides, you should arrange them evenly. Placing color blocks on your shelf is not the best way to decorate.
Items such as books, plants, and artwork should be altered by one another too. Try to avoid putting all the books or plants in one place. Spread them equally on your shelf. For example, artwork can be next to your books, the lower one has plants and some potteries. Compatibility is the core in this part.
Some tips that you can find helpful:
Square-shaped objects come next to or below round ones.
Place a plant on the left, a round-shaped or tall ornament such as a vase in the middle, and a small accessory on the right.
Large square objects should be next to a delicate plant.
Place a small and elegant artwork next to books.
These tips are usable for shelves with either separators or none. The orders may vary a bit for different shelf shapes.
Consider the number of objects
Last but not least, you should seriously consider the number of decorations and stuff you put on the shelf. It occurs for two reasons. The first one is that too much stuff can make your shelf messy rather than elegant. Things should be enough to get the best outcomes, especially in home styling.
The second reason is that if the total weight of all items displayed on the shelf is out of your shelf capacity, it faces a massive risk of collapsing. This situation will lead to a waste of money as your stuff can break due to the collapse. Moreover, if you place your shelf near your bed, you will confront a greater risk of injury, leading to serious conditions. After all, safety comes first.
3. A list of styles you can take reference to determine your shelf
For people with strong taste:
Art Moderne
Arabian
Amish
Bohemian
Art Deco
Bauhaus
Egyptian
Empire
For those with more neutral vibes but still, embrace the space:
Brazilian
African
American Country
English Country
Cottage
Exploration
French
French Provincial
Greek
For people with mild, elegant, and soft styles
Minimalism
Farmhouse
Beach house
Coastal
Danish
English
European
Regence
Conclusion
Shelf decoration is not so hard at all. All you need is to follow the process: style - color palette - textures and shapes - arrangement - the quantity. Ornaments for shelf decoration are available on many websites. Style references are of the above list behomemate have informed. The primary rule to note down is compatibility.