Corner shelves are undoubtedly similar pieces of furniture around the house for any household or house owner since they have been offering so many advantages. In this article below, we will discuss further the benefits of corner shelves if you purchase them. This is definitely a must-read piece for shoppers who are confused about whether they should get them or not. Also, we will provide you with a brief buyer's guide and several ideas for corner shelf setups.
More About The Corner Shelves
Corner shelves are popularly used in home decoration and organization. There are two major types of corner shelves floating and standing. Floating corner shelves are much more space-efficient, and in several cases, they are more affordable than standing ones. However, the standing corner shelves have a great capacity for storage. So it is based on your usage purpose that you can consider one between these two types.
If discussed more thoroughly the floating and standing corner shelves, you may find plenty more types of corner shelves varying from the original two. The types of corner shelves here would refer to the styles, rather than functions or constructions. Now, it would be our explanation of the benefits of corner shelves for your homes.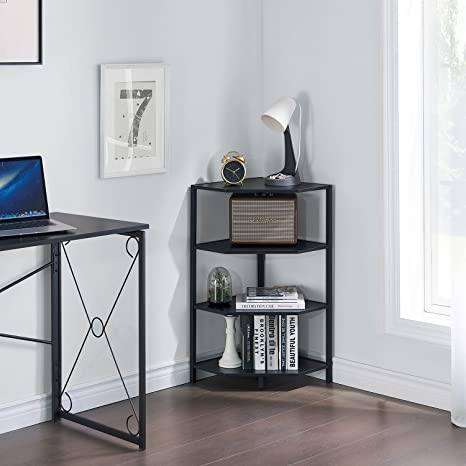 What Are The Benefits Of Corner Shelf?
Having a corner shelf around the house is pretty necessary, and here are the most significant benefits you can receive when purchasing a corner shelf for your home. They would be focusing on the space efficiency and sense of decoration with our detailed explanation as promised.
Creating Space Efficiency
Creating space efficiency is the most fundamental function of a corner shelf. This benefit is at its best when you purchase a standing corner shelf. The standing corner, if designed specifically for storage, would have an impressive capability for organization and storage, perhaps with several drawers inserted or opening levels.
Floating or so-called mounting corner shelves are not so outstanding in terms of organizing and storing. However, if you are counting space efficiency only, they are not as space-consuming as the standing ones. As a result, if you don't have too many odds and ends to organize, a mounting corner shelf can do an excellent job.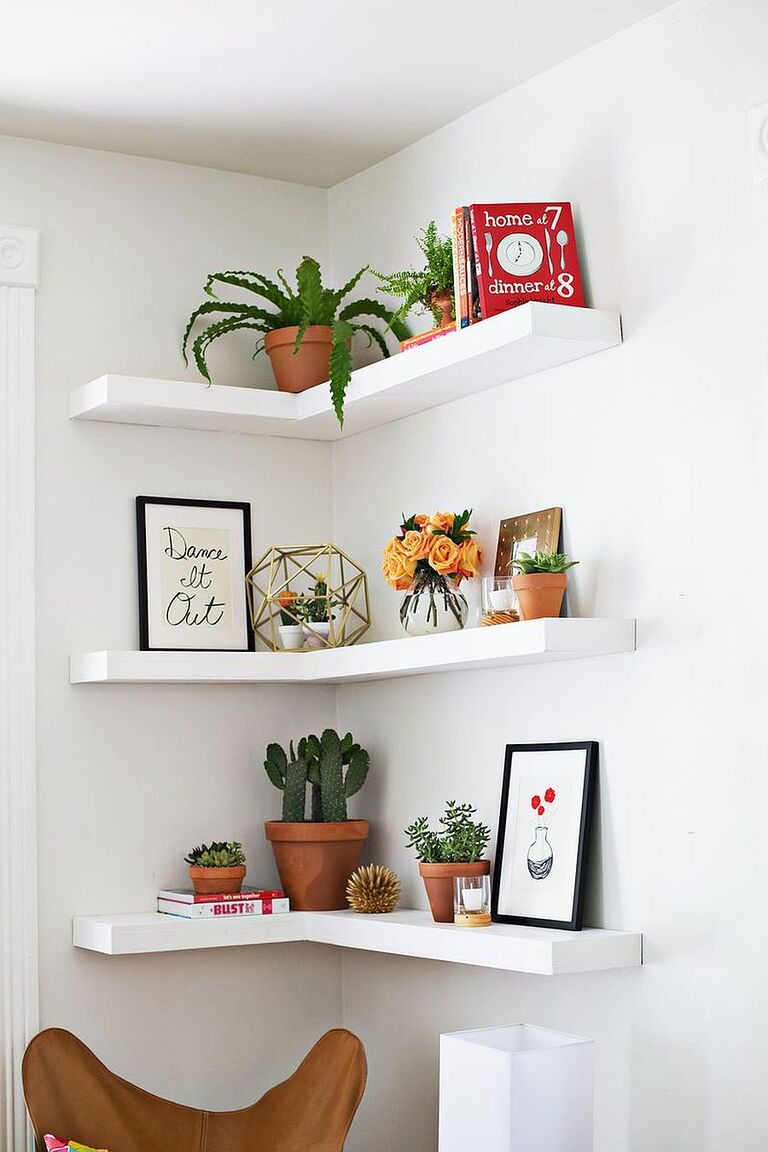 Being Display Of Personal Interest
Should you have any personal interest that can be expressed through ornaments or small pieces of furniture, why not display them in your house on a corner shelf. Both standing and floating corner shelves would be great for this task.
If your home is decorated with the ornaments displayed on the corner shelf, that would be an incredible place for personal hobbies and tastes. A pleasing living space is beneficial for your moods, and in the case of WFH individuals, it would certainly increase your productivity.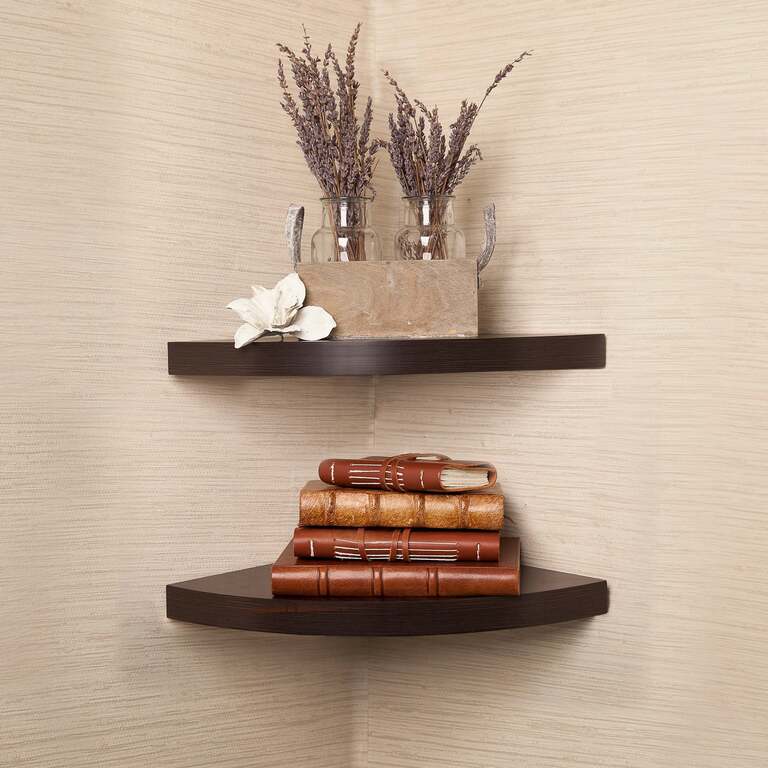 Making A Space Highlighter
Another look-focusing benefit of a corner shelf is being a space highlighter. Should you find your space a bit basic, adding a corner shelf with unique ornaments can be a great way to stir up the room atmosphere. It is not too expensive to insert a corner shelf, which can be a floating or standing one. Besides, you don't need too many decorators on the shelf to avoid the confusion it may create afterward. The corner shelf with a suitable amount of any ornament you love to highlight the room as a perfect last touch is advisable.
Increasing Home Inferior Compatibility
The last benefit gained from having a corner shelf around the house is the increase in your inferior compatibility. It may sound strange but adding a corner shelf with vibing ornaments or appropriate arrangements can help to increase the overall layout agreement because it has partly contributed to completing the whole look of your space.
Also, in several rooms such as home offices, living rooms, or reading rooms, a corner shelf can have a remarkable impact on the overall appearance. It makes the corners feel less desolated, not to mention creating a small space fitting the other pieces of furniture.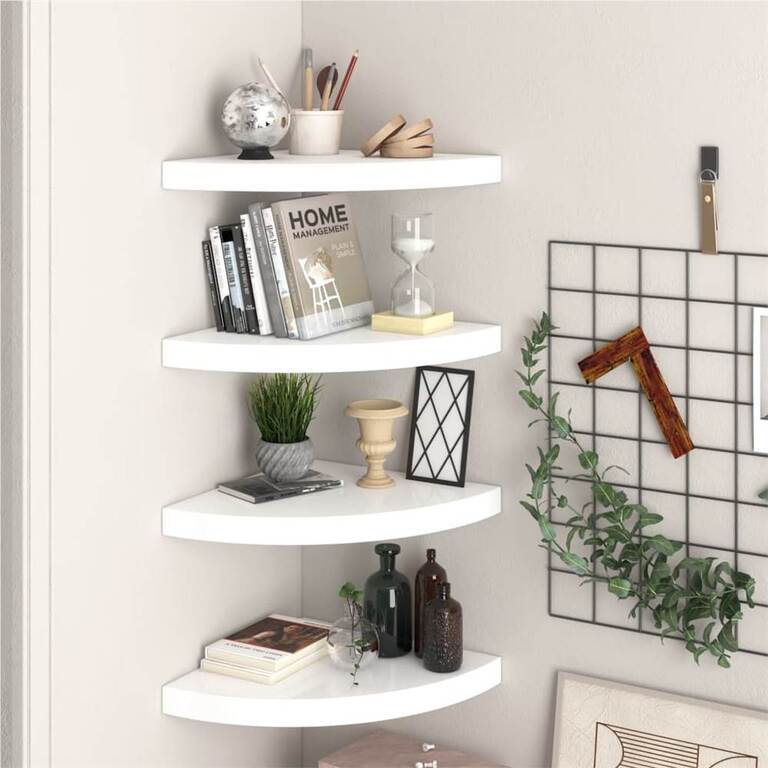 What To Consider Before Purchasing A Corner Shelf?
If you are already convinced by the benefits of a corner shelf, you may need a brief buyer's guide for these items. We advise that you focus on factors, which include types, material, construction, capacity, size, and style
Floating Or Standing
The very first factor you need to determine is the type. We have mentioned types of corner shelves earlier as floating (or mounting) and standing. The standing corner shelves often have a more solid construction with greater capacity for storage, but they are in most cases, more expensive and less space-saving than the floating ones.
Some floating corner shelves have been leveled up for more remarkable storing capacity. However, if you are choosing a corner shelf solely for storage, a standing shelf is what we recommend.
Material And Construction
Material and construction are what impact durability and solidity directly. The advisable materials for living rooms, bedrooms, and home offices you can consider are wood and metal combinations. However, if you are buying one for your bathroom, plastic shelves are better because they constantly engage in watery contacts.
Standing corner shelves have a more solid construction, in most situations because they receive certain support. But not all cases are the same as there are standing shelves that are as well-built as floating ones. So consider the material and construction thoroughly to prevent any unwanted collapse while your usage experience.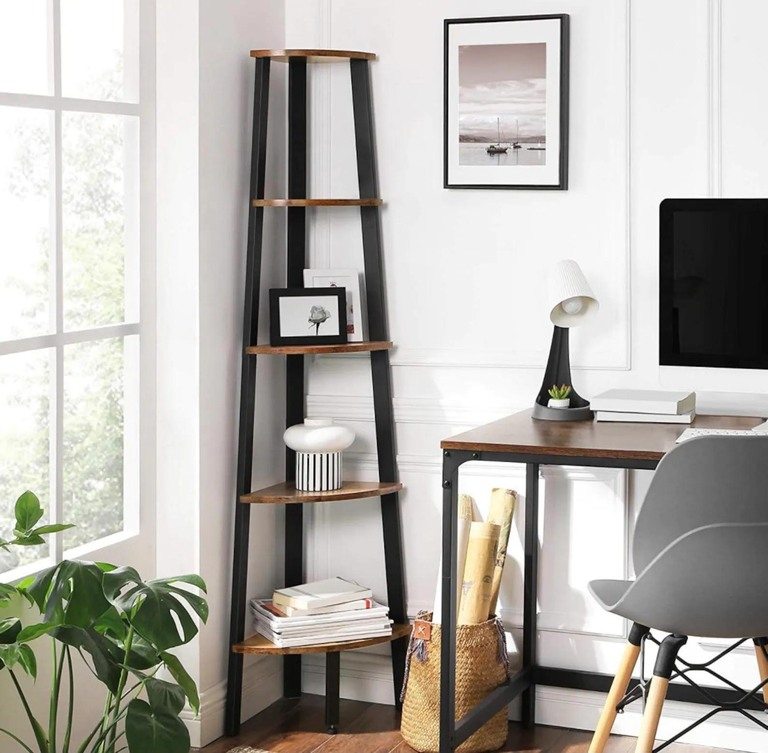 Capacity And Size
Capacity and size are the next elements to consider. For corner shelves, it is advisable that you store a certain amount that is not excessive. But if you have such needs, choosing a big size corner shelf is recommended. It would likely cause the issue for space if the corner planned is not compatible. That's why when heading for a huge capacity, pay attention to size also.
Style
Style is the last thing you should take into consideration. This is quite flexible since it is dependent on your house layout. The trending styles recently are earthy tones, 70s retro, nature-inspired, multifunctional, rounded edges, and leather-filled. These are all the styles you can take as references. Deciding on a matching color palette is suggestible as well.
Tips To Keep Your Corner Shelves In High Maintenance
Storage note: as we have brought up, you should not have too much on your corner shelf. It easily creates a sense of closure and stuffiness, which is not so effective for space arrangement.
Cleaning: you should certainly clean your shelf at least once or twice a week. This is to avoid dusty racks and figure out timely if any issue relating to insects or construction is about to occur.
Keep it high and dry: like any other item, these shelves should not be exposed to sunlight constantly or stay under harsh conditions. Watery contacts should also be avoided. In case you install a corner shelf in the bathroom, it is wise to choose a location where it faces the lowest risk of constant exposure to water.
Air purification: if possible, you can do air purification. It not only helps with the family's health but also the furniture in the house. It is advisable, even not compulsory.
Final Thoughts
A corner shelf is beneficial for your house organization and decoration at the same time. For such reasons, why not install one around the house if you are in need. Preserve the shelves by often cleaning, suitable storage, careful placement, and air purification if possible. Hopefully, these information pieces would come into use for you for the upcoming purchase.